According to
RTT News
, MÖTLEY CRÜE frontman Vince Neil will star in a new reality series, Vince Neil Escapes. It will be a documentary-style program which follows the Neil as he attempts to earn his pilot's license.
"He's faced with some choices that could have life-and-death consequences," producer Anthony Nalli says in a press release. "He's called upon to summon a serious side that many Vince-haters doubt even exists. It's a classic battle of temptation that we all face — only on a rock star scale."
Neil, his girlfriend and flight instructor are the stars of the show, with the latter attempting to convince Neil—ever the wild child—to get serious about his goal.
"My plan is to fly me and my friends around where we need to go out here in Vegas," Neil told Entertainment Weekly. "But in the long run, when the Mötley thing comes to an end, I want to retire in the Bahamas, get a sea plane, and have some fun."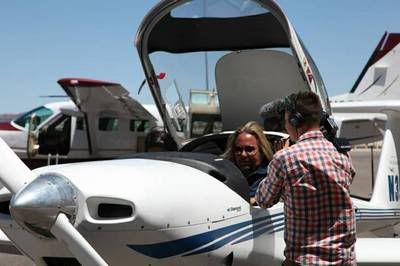 Back in June 2012, Las Vegas Weekly issued the following report from Robin Leach:
After two days of filming the new PBS series The Aviators, hometown rocker Vince Neil has made his first runway takeoff as a pilot. Cameras are taping him as he earns his pilot license on the two-week, accelerated pilot training program filming until July 11th.
Vince studied textbooks on his just-completed European tour while he performed in Moscow, Finland, Paris and Milan. The Aviators is filming Vince's entire flight training experience, from the first flight to the first solo to the end of the season revealing the answer to the burning question, "Can a rock star get his pilot license?" It looks right now as if it will be a resounding "yes."
Read more at
this location
.
(Photo: Aviators)