Veteran drummer "Wild" Mick Brown (DOKKEN, T&N, TED NUGENT) is featured in a new interview with RockAddictRadio.com. Check out the 45+ minute chat below:
Brown recently spoke with the Decibel Geek Podcast. An excerpt is available below:
"Wild" Mick Brown: "What I'd like to make everyone aware of is that we had originally planned for a six week tour of the T&N band to hit the road. It was going to be George Lynch, Jeff Pilson, myself and we had been talking with Michael Sweet from STRYPER to come in and front the band. We thought he had the right voice that would work with the Dokken stuff for the harmonies and that and we thought when we were in the towns of the guest singers, we could try and get them to come out. We had planned to do this but all the people behind the scenes felt it was a little premature, that we were moving too fast."
"So what's going to happen is that there is going to be a second part to this project. T&N standing for Tooth And Nail by the way, we were going to call the band that but a record company with that name came forward saying we couldn't use it. I wonder where the record company got their name?, 'Gee maybe an old Dokken record?' Anyways there will be a part two, we have already recorded a bunch of the old Dokken tunes from the early days, now what's possibly going to happen is that George, Jeff and myself might write some new material and if we can get Don involved, maybe it will be Dokken material. It's tricky, but if not we'll bring in some more guest singers. So more of the same coming and hopefully we'll have a touring band at some point. It's a little tricky too, because Jeff is the bass player in FOREIGNER and they stay pretty busy. My summers are pretty busy with TED NUGENT. So putting a band together to go travel will be a little tough but hopefully we can make that happen."
Go to
this location
for the complete interview. To access the Decibel Geek Podcast click
here
.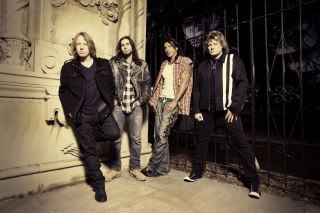 (left to right: Jeff Pilson, Brian Tichy, George Lynch, Mick Brown)
T&N reunites present/former Dokken members George Lynch, Jeff Pilson and "Wild" Mick Brown, for this brand new 12-song disk.
According to a press release, "Slave To The Empire offers eight new original songs and four re-recorded classic Dokken songs that feature sensational vocal performances by Tim "Ripper" Owens (DIO DISCIPLES, YNGWIE MALMSTEEN, BEYOND FEAR, ex-JUDAS PRIEST, ICED EARTH), Doug Pinnick (KING'S X), Sebastian Bach (ex-SKID ROW), and Robert Owens (WARRANT). Add to the mix the hard hitting, multi-talented drumming of Brian Tichy (ex-BILLY IDOL, OZZY OSBOURNE, SLASH) and you've got yourself a major dose of awesome!"
"Mick, Jeff and I have been playing together for many years," states Lynch. "When we go way back in time, we always had the most fun when we were just sitting in a room together or up on stage with the three of us playing."
"Don't think of this as Dokken without Don – that's misleading," adds Pilson. "Think of it as a band with great chemistry coming up with new music that excites them, and also paying tribute to Dokken music which the members all are heavily invested in emotionally. Don is, and will always be, the singer of Dokken and an invaluable part of the Dokken chemistry."
Slave To The Empire was released on October 19th via earMUSIC and will be issued in North America on October 31st via Rat Pack Records. T&N's cover of the Dokken classic 'It's Not Love' with WARRANT's Robert Mason on vocals can be heard on SoundCould below:
Slave To The Empire tracklisting:
'Slave To The Empire'
'Sweet Unknown'
'Tooth And Nail' (featuring Doug Pinnick of King's X)
'It's Not Love' (featuring Robert Mason of Warrant)
'Rhythm Of The Soul'
'When Eagles Die'
'Into The Fire' (Jeff Pilson)
'Alone Again' (featuring Sebastian Bach)
'Mind Control'
'Kiss Of Death' (featuring Tim "Ripper" Owens)
'Jesus Train'
'Access Denied'
Audio samples from the entire album are streaming at
this location
.