On October 23rd, original KISS drummer PETER CRISS published his memoir, titled Makeup To Breakup, via Simon & Schuster imprint Scribner. Michael Alan Goldberg at The Village Voice has published a scathing review of the book; an excerpt is available below.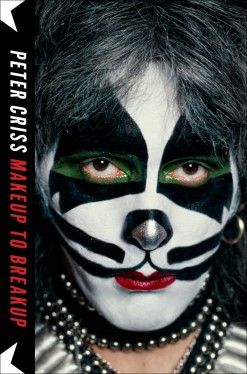 "Makeup to Breakup — through which Criss clearly intended to settle scores with his erstwhile bandmates, various KISS associates, and his two ex-wives — backfires dramatically, coming off exceedingly petty, exasperating, and selfish. Criss hardly portrays himself as a saint, but even though he details his many personal and professional failings, candidly recounting them isn't the same as owning them. In the end, his lack of genuine soul-searching—as promised in the preface—and his persistently righteous indignation and self-pity render him an unlikable, bitter, oblivious lout."
Go to
this location
for the complete review. The first chapter of the book is now online
here
.
Criss wrote the book with the help of Larry "Ratso" Sloman. Scribner's press release promises, "From sex, drugs, and rock 'n roll to multiple brushes with death, Makeup To Breakup will be Peter Criss' unvarnished and eye-opening life story."
In an Artisan News report, Criss talks about the memoir. Check out the footage below: