Loudwire.com
recently caught up with CRADLE OF FILTH frontman Dani Filth to discuss the band's new album, The Manticore And Other Horrors. In an excerpt from the interview, found below, Dani recounts being stalked by a fan: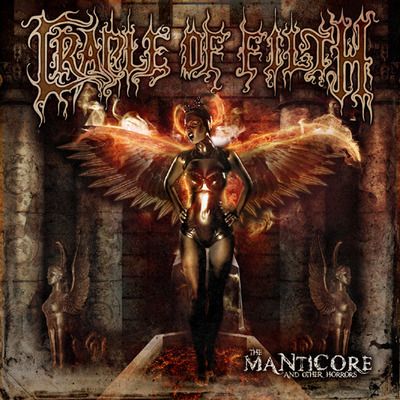 "There was one particular time for a while, and I won't name the poor lass," Dani begins, "but this girl was convinced that she was the reincarnation of Elizabeth Bathory and I was her husband in a previous life, which was pretty uncanny because we've written an album about Elizabeth Bathory called 'Cruelty and the Beast.' It was just like, "Oh, that's handy isn't it?" She was genuinely serious about it and she used to write these amazing letters, but it just got to the point where it felt a bit stalker-ish, then it all died down. Either her brain collapsed or she got better … either way."
He continues, "Later on, I was in a car with a runner [a person who gets items for a touring band] before a show; I think it was in Milwaukee actually, and halfway to Wal-Mart, I was like, 'Hang about … Wal-Mart was that way … I'm not that silly.' Then the guy starts telling me how estranged he was from his long lost, long loved girlfriend because she had become infatuated with me, and it suddenly dawned on me that this was the same girl. I was suddenly thinking, 'I'm in a car with him, going the wrong way,' thinking he was going to pull out a gun. Nothing of that sort happened, but for a minute there, it was like, 'Christ!' You had that sort of burning realization looking over you that this wasn't going to go too well."
The singer concludes, "It was one of those things where I was sort of half interested and half wanting to get where I was, and then suddenly, what he was saying sort of bored more and more into me and the penny dropped. It was like, 'Oh, no, this may not end well here.' [Laughs] It was weird, but he was a nice guy and he just wanted to get it off his chest, hence why he was driving around a bit."
Watch for the complete interview on Loudwire.com, coming soon.
Cradle Of Filth will be touring across Europe on their next Creatures From The Black Abyss Tour, featuring support acts: GOD SEED, ROTTING CHRIST, DARKEND and BLYND. Confirmed dates are as follows:
November
7 – Haarlem, Holland - Patronaat
8 – Leeuwarden, Holland - Romeein
9 – Osnabrück, Germany - Hyde Park
10 – Aarhus, Denmark - Train
12 – Gothenburg, Sweden - Trädgarn
13 – Stockholm, Sweden - Klubben
15 – Tampere, Finland - Klubbi
16 – Helsinki, Finland - Nosturi
17 – Tallinn, Estonia - Rock Cafe
19 – Minsk, Belarus - Re:Public
20 – Kiev, Ukraine - Bingo
22 – Warsaw, Poland - Progressja
23 – Krakow, Poland - Kwadrat
24 – Zlin, Czech Republic - Winter Masters Of Rock
26 – Bologna, Italy - Estragon
27 – Milan, Italy - Alcatraz (Small Hall)
29 – Montpellier, France - Rockstore
30 – Bilbao, Spain - Santana 27
December
1 - Santiago De Compostela, Spain - Capitol
2 – Porto, Portugal - Hard Club
4 – Madrid, Spain - La Riviera
5 – Barcelona, Spain - Salamandra
7 – Geiselwind, Germany - Musichall
8 – Bochum, Germany - Matrix
9 – Pratteln, Switzerland - Z-7
11 – Prague, Czech Republic - Meet Factory
13 – Bratislava, Slovakia - Majestic Music Club
14 – Munich, Germany - Theaterfabrik
15 – Wels, Austria - Schlachthof
16 – Berlin, Germany - C-Club
19 – London, UK - Forum
The tracklisting for The Manticore And Other Horrors is as follows:
'The Unveiling Of O'
'The Abhorrent'
'For Your Vulgar Delectation'
'Illicitus'
'Manticore'
'Frost On Her Pillow'
'Huge Onyx Wings Behind Despair'
'Pallid Reflection'
'Siding With The Titans'
'Succumb To This'
'Nightmares Of An Ether Drinker'
'Death, The Great Adventure' (Deluxe Edition Digipak)
'Sinfonia' (Deluxe Edition Digipak)
`