TOURNIQUET drummer Ted Kirkpatrick will be the featured guest on Beyond The Riff this Sunday, October 7th. Ted will be interviewed in support of the band's newly released album, Antiseptic Bloodbath. Listen live from 4:00pm - 5:00pm CST
here
.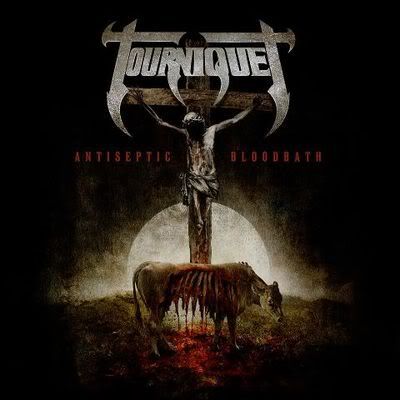 The Antiseptic Bloodbath cover was created by legendary artist Travis Smith (OPETH, NEVERMORE, ICED EARTH, OVERKILL). The band has released the following statement regarding the meaning behind the new album art:
"Since some of you have asked about this – here you go:
About the cover – the figure of Jesus: Flogging was part of the crucifixion process under Roman law. The whip used had multiple strands of leather with chunks of metal and bone embedded in each strand. As the prisoner was flogged, fist the skin would be battered, bruised and torn, and then the whip would start digging into the tissue below the skin until the flogging victim's skin was torn and hanging from their body in ribbons. The cover image is an artistic depiction, and as so a certain amount of license must be allowed for. While bones can be seen on the Christ figure on our cover, that shouldn't be misconstrued as being a rotting Christ. It's a depiction of the brutality endured by Jesus.
Isaiah 52:14 - Just as there were many who were appalled at him, his appearance was so disfigured beyond that of any human being and his form marred beyond human likeness."
Four full tracks from the album - 'Chart Of The Elements', 'Antiseptic Bloodbath', 'The Maiden Who Slept In The Glass Coffin' and 'Duplicitous Endeavor' — are streaming below:
More on Tourniquet at
this location
.