By Aaron Small
"I'm getting cabin fever. I've been off the road too long; it's driving me insane," admits WEDNESDAY 13, on the phone from his home in the never boring city of Los Angeles, California. With "just a few more weeks" until W13 embarks upon a world tour beginning in Brisbane, Australia, he's set to release the Spook & Destroy EP on October 9th.
The Spook & Destroy cover art (pictured below) looks like a scene from the old Godzilla movies, except it's a giant zombie terrorizing Japan as opposed to an overgrown green lizard. "That's exactly what I told the artist," exclaims Wednesday. "He asked me, 'what do you see for the cover for this?' I see exactly what you said – a giant monster kind of like Godzilla destroying a city. Because the main track on the record is the 'Mother Fuck The World' song, Spook & Destroy, it kind of seems almost like an army zombie, that's why he has the helmet on that says M.F.T.W. But it was something different because most of my releases have always had a picture of me on it. So I thought it was kind of cool to change it up a bit, and get one of those cool album covers I used to see when I'd walk into a record store when I was a kid and I was like – oh my god! What is that? It kind of made it mysterious, just like the old IRON MAIDEN album covers. When I was a kid I had no idea what they sounded like, but I wanted to know because the records looked so cool."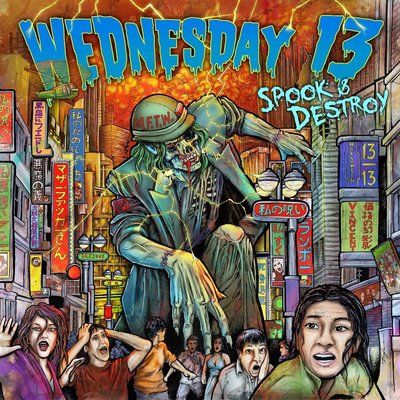 The panicked people depicted at the bottom of the Spook & Destroy cover are in horror and running for their lives, but there's a plethora of signage surrounding them. Just under the Spook & Destroy title, one of the signs reads Halloween 13 13, which is the name of a song on the EP. Below that another sign reads Vincent, but everything else is pretty much in Japanese. What do those store-front signs translate to? "Actually, I'm not even quite sure about most of the stuff," chuckles Wednesday. "But if you look closely, you can see a picture of the Calling All Corpses album cover (on the right side). Basically he (the artist) translated most of the song titles and broke it up so it's words here and there. I think it says 'Mr. Motherfucker' on one sign. Where the word Vincent is, maybe that's Vincent Price; I can only hope."
It's public knowledge that Wednesday's next full-length album, The Dixie Dead, will be released in February or March 2013, so what was the impetus to release the Spook & Destroy EP? "For me, if you go back and look at everything I've released, I've pretty much put out a release almost every year since 1996. There was one year; I think 2007, where I didn't release anything. When Calling All Corpses came out last year, I pretty much had the whole year off from touring, we recorded it earlier in 2011 and it came out later. Once the record was out, I was ready to start thinking about writing another record. This European tour was coming up and I wanted to come out with something new, something in time for the tour that holds people over, just in time for the new record which I'm more stoked about than anything at all."
Back in August, W13 Tweeted that The Dixie Dead is his "fav solo CD since the first… such variety." Elaborating upon the maximum 140 characters allowed Wednesday says, "I took a different approach on it. I recorded it in different circumstances, most of the time at my house, which was so cool! I didn't have to worry about getting up and driving to a studio around LA somewhere and taking forever to get there. I could wake up in my pajamas and track a song; I think you'll definitely be able to hear that on the record, there's such a relaxed vibe to it. It doesn't sound rushed or anything." The neighbours didn't complain? "They did not complain at all, which I'm really shocked about. They complained other times when I wasn't making music; I was just playing music in my room. We didn't make any noise at all. We pretty much sound-proofed it out and used a lot of headphones. It worked out great. Instead of spending an eight hour day in the studio, when I had it here at my house, I could record all day long until three or four in the morning. So we got to work twice as long which definitely helped."
Returning focus to the Spook & Destroy EP, which contains two new songs, two remixes, one acoustic reworking as well as three re-recordings of older songs, fucking the world wasn't good enough; W13 had to mother fuck the world! "Yeah," laughs Wednesday. "One day I was writing out song titles in a notebook. I had a bunch of different things and there was F.T.W. – Fuck The World. Somehow that made me laugh and I made a riff up, Mother Fuck The World went right over the riff and history was made at that point. It's a cool, fun song. For me, the song definitely has a harder, heavier edge to it than the Calling All Corpses record, and it's a good indication of where the next record's going as well. So that was another point where I wanted to put this EP out, so people can hear the direction we're going with The Dixie Dead."
'Halloween 13-13' is the other brand new song on Spook & Destroy, rather fitting seeing as the EP will be released in October – the same month as Wednesday's favourite holiday. "At first, what originally happened when it came to the EP idea was that I wanted to record a song to put out on Halloween. I've had this 'Halloween 13-13' song for a couple years and to me, it kind of had a vibe of my old days with THE FRANKENSTEIN DRAG QUEENS. When it came time to record, I had the 'Mother Fuck The World' song, and we thought about re-recording a few old songs. So we decided to make an EP out of it in time for the tour, and luckily it worked out. It was cool that I got to record that song because it would not have fit on The Dixie Dead, and I didn't want it to go into the old demo vault where a lot of songs have went and will probably never, ever get recorded."
In celebration of All Hallows' Eve, W13 shares his best Halloween memory, "The Halloween show I did in London in 2008, when HANOI ROCKS was on the bill and they actually supported me which I couldn't believe! It was a solid packed show, it was insane to look out and see all these people in costumes. It wasn't just people from London, people flew in from all over the world 'cause it was a special event. When I walked out (on stage), it made me feel like doing this has all been worthwhile, all these years of singing about Halloween and horror music. It made me feel good about being Wednesday 13."
Wednesday will be playing London, England again on Halloween 2012, and he'll be filming that show for a live DVD. "Yeah, the show I was just telling you about, being my favourite Halloween memory, the show was so cool, but we didn't videotape it. I said, if that ever happens again, we have to videotape it. Once I saw the venue that we're playing in London (Club Koko), it's such a cool looking theatre. It's perfect for a DVD shoot. The photos I've seen online are amazing; it looks too good for me. It's like, wow, they actually booked me in this place? We've got to get it on tape so I can prove it. I know it's going to be such a special show, it's one of those days when I know things can't go wrong for us. So I'm super excited about it, plus the last DVD (F**k It We'll Do It Live, released in 2008) showed the old lineup that I had. The guys I'm playing with now, I've been with for years, whether it was GUNFIRE 76 or MURDERDOLLS, it feels like a band and I wanted to showcase that 'cause I'm really proud of the lineup I have now. I think we have a really, really cool show. I kind of feel like it's revenge on that last DVD; it was bad luck, everyone was sick when we filmed it. We've changed the set since then, we'll play songs from the new EP. I'm always changing stuff up and thinking ahead of the game. I went back and looked at the tracklisting of the last DVD so I won't do the same set list. I purposefully made it really different from that one. It will be a completely different show. It's important for me to break the mold a bit too because for the most part, since Calling All Corpses came out (in 2011) we've been playing the same set. I told everybody we got too comfortable with it, so I changed everything up. I've added a bunch of new songs in, so now we get to start all over again and get better as a band." As far as a release date for the DVD goes… "That's the crazy part because I don't know what's going to happen first. The Dixie Dead will be out in February hopefully; then the DVD wouldn't come out for at least a month or two after that – maybe April, a spring release? Then there's a little something – I don't want to get too far ahead of myself – but I have another project I'm working on for the later part of next year as well."
Another aspect of Spook & Destroy is the trio of re-recordings. The desire to re-do the old Frankenstein Drag Queens songs 'Rambo' and 'Mr. Motherfucker', both of which initially appeared on Night Of The Living Drag Queens, released in 1998 makes total sense as neither the recording equipment or budget was what it is today. However, re-visiting 'Bad Things' from 2005's Transylvania 90210 is a surprise as that album sounded great. "Exactly, and I agree with you. The reason I did this is, 99% of the time I'm on tour, that's where the majority of my fans buy my merchandise. So when they come to my merch table… ever since 2008 I've been able to go back and redo my catalogue, from Skeletons on. I was on Roadrunner in 2005: I'm no longer with them. Then I did a record with them with Murderdolls, and I'm no longer with them again. It's one of those things where I don't have Transylvania 90210 as a release for my fans. So when I play a show and somebody wants a copy of 'Bad Things', now they can get it. I lost control of some of the product over the years from bad deals or whatever; a lot of people have no idea. For example, when I opened up for ALICE COOPER for the very first time, we played 'I Love To Say Fuck' and I didn't have a recording of that anywhere. Our merch guy said, everyone keeps asking about this 'I Love To Say Fuck' song. If you had that CD, I would have sold 200 of them tonight. I'm trying to get more control of my catalogue and make it more available, 'cause it's scattered over the years."
Same scenario applies to the acoustic version of 'Curse Of Me', which initially appeared on Fang Bang in 2006. "Right, but this was a different thing because I started doing the acoustic version in 2007 during a six-week tour of Europe, and it got a really cool reaction. Over the years, people kept saying I should put it out. So I listened to the fans' demand, and it was cool to go back and do it. Plus I was playing that song all during the summer tour last time. We've worked that back into the set now, it's come back as a favourite." The 2012 acoustic rendition sounds as though Wednesday is singing it with his dying breath! "The recording of that was so difficult at first. We didn't record it in a studio; we did it in a rehearsal space with a makeshift vocal booth. So I'm basically under a blanket and a Marshall Amp in a cardboard box. I first started singing it normally, but I just wasn't getting the vibe. So we had to spook it out; I really felt like I was in a coffin. I had to get right on the mic – so that's why there's two or three different voices on it. When I went back and listened to it, it even sounded creepy to me. It made the hair on my neck stand up; it felt like the demon version of me singing, I don't know how I pulled that out but I did."
Hearing 'Curse Of Me' done acoustically, which is not something W13 is generally known for, piques the old curiosity - is an unplugged album or series of shows a possibility? "Yeah, that's another one of the ideas in my million idea bucket. One day you'll hear the Undead Unplugged album from Wednesday 13. For years I've sat around with the guys in my band with acoustic guitars on the bus, and we'll practice our show acoustically. It sounds so cool because all of us can play guitar, even our drummer. It's something I really want to do because I know we can pull it off. Doing the 'Curse Of Me' thing, plus I did the acoustic songs on the Bloodwork EP as well (in 2008), I want to put these out piece by piece, but doing an unplugged album is definitely on my list. I don't know when I can work that in, but it's on the slate."
Rounding out Spook & Destroy are the remixes. Two of the songs that were re-recorded were also remixed, thereby resulting in two different versions of both 'Bad Things' and 'Rambo' on the same EP. Given the size of Wednesday's musical archive, why not opt to remix two other tracks? "It was going to be a six-song EP originally, as most EPs are. The guy who did the remixes, these were the only ones we had that he could get hold of. He did them for fun and sent them to us, and they were kind of cool. I thought the same thing, why put them on there? But they're like bonus tracks; they weren't even supposed to be on there in the first place."
As far as remixes go, compared to ROB ZOMBIE's, the pair on Spook & Destroy are actually listenable. Wednesday 13's songs retain their original identity, rather than morphing into electronic dance techno crap. "That's what I told my guy who did the remixes – he did a lot of the Weirdo-A-Go-Go stuff as well. I said I don't really like remixes, but I have heard some that I do like and I explained those to him. I don't want it to be too crazy where it gets so far away from the song; you've still got to have the lyrics. He sent me the 'Bad Things' version and when I first heard the piano, it was like what the fuck is this? It just made me start laughing 'cause it sounded like the MTV version of that song; it was hilarious. But once I'd heard it a couple times, it was cool too; it really started to get stuck in my head. But again, it wasn't intended to be on there in the first place, it's just a bonus thing."
W13 will be doing quite a bit of touring in the near future: Australia, Europe, and Russia in November – that sounds cold! "Yeah, we're not really the smartest people when it comes to booking our tours, but that's when the offer was for. Around the same time last year we were in Finland, so we were really close, and it was so cold! It'll be a fun, interesting trip. I'm super excited to do it because I haven't been there in a year, and I've never been to Russia, ever. It's a pretty cool honour to be invited to do two shows there (in Moscow and St. Petersburg). It's another notch on the belt."
In closing, Wednesday remarks, "Next year marks 10 years I've been doing the Wednesday 13 thing, and 20 years since I've been putting out music as far as releases you can actually get through iTunes and things like that. The thing about this EP, I didn't want to confuse people with The Dixie Dead as well. Everyone's asking why I didn't just put it out this year? Well, next year is 2013. I have to put out the record in 2013; it would be dumb not to use that year, it's my lucky year. That's why I wanted to delay the full album. I'm so, so stoked about it."
Visit
Wednesday-13.com
for a complete list of tour dates.