Helsinki vampires' THE 69 EYES have released the official video for their new single, 'Red', which was filmed in July with Patric Ullaeus of Revolver Film Company (DIMMU BORGIR, LACUNA COIL, IN FLAMES, KAMELOT). Check out the clip featuring Elvira, Mistress Of The Dark, below:
About the video singer Jyrki69 remarked recently: "We've known the director Patric for years and been talking nearly a decade of doing a video with him. So it was about the time finally! Since the whole new upcoming album X is our 'made in Sweden' record, it was natural to shoot a video with a Swedish director and in Sweden. I really loved David Fincher's movie The Girl With The Dragon Tattoo, which is set in Sweden and wanted some of that kind of vibe to be in this video too. We shot the video in the Bjertorp Slott mansion outside of Gothenburg. It's a mystery scene in the most beautiful Swedish countryside with fast sportcars, Playboy playmates and the Helsinki Vampires! When The 69 Eyes make videos, it always is more based on pleasure in contrary to the recording session. And that's how it was again this time!"
"Vampira, Tura Satana and Elvira, Mistress of the Dark (official). The concept of The 69 Eyes is based on the evil beauty of these women," Jyrki69 added. "I was a member of Elvira fan club ever since I saw her on the cover of Fangoria in the mid-80's. I had a life-size poster of her in the black lingerie in a coffin on my wall for years. F*ck it, I should put it back, just to celebrate the fact that finally I feel like The 69 Eyes made it - Elvira's supporting us!"
'Red' can be found on The 69 Eyes' new album, X, which comes out on September 28th (Europe) and October 9 (North America) via Nuclear Blast Records.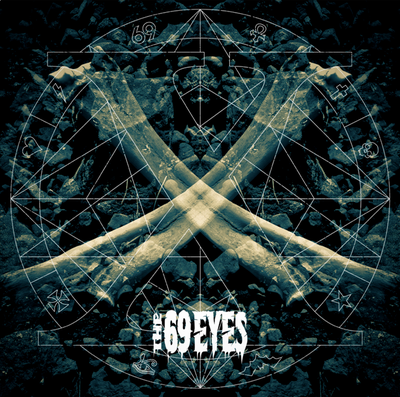 The tracklist for X:
CD:
'Love Runs Away'
'Tonight'
'Black'
'If You Love Me The Morning After'
'Red'
'I Love The Darkness In You'
'Borderline'
'I'm Ready'
'I know What You Did Last Summer'
'When A Love Comes To An End'
Bonus DVD
- Red (video single)
- Made In Sweden – Stockholm & THE 69 EYES (documentary)
Vinyl:
(Side A)
'Love Runs Away'
'Tonight'
'Black'
'If You Love Me The Morning After'
'Red'
(Side B)
'I Love The Darkness In You'
'Borderline'
'I'm Ready'
'I know What You Did Last Summer'
'When A Love Comes To An End'
A new video featuring audio snippets and comments about their new album, X, is available in the the four-minute clip below: