MICHAEL SCHENKER News and Tour Information
recently announced that Schenker's (ex-UFO, SCORPIONS) upcoming US tour will feature Robin McAuley on vocals, Pete Holmes on drums, Wayne Findlay on guitars and Elliott Rubinson (Dean Guitars) on bass.
According to an update, McAuley has been replaced by vocalist David Van Landing, who has previously done three tours with MSG and had a short stint with CRIMSON GLORY. An official announcement regarding the replacement of McAuley with Van Landing is due to be issued soon.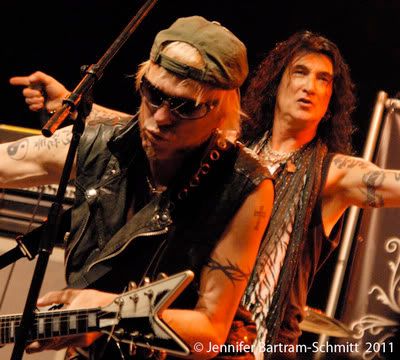 Dates are as follows:
October
3 - Modesto, CA - Fat Cats
4 - San Jose, CA - Rodeo Night Club
5 - W. Hollywood, CA - Key Club
6 - Las Vegas, NV - Santa Fe Station Hotel & Casino
7 - Ramona, CA - Ramona Mainstage
9 - Tempe, AZ - Club Red
11 - Houston, TX - Concert Pub North
12 - Corpus Christi, TX - Concrete Street Amphitheater
13 - San Antonio, TX - Sunken Gardens Amphitheater
14 - Lubbock, TX - Lonestar Amphitheater
18 - Toronto, ON - The Rock Pile
20 - W. Greenwich, RI - The Rock House
21 - Poughkeepsie, NY - The Chance
23 - New York, NY - The Gramercy Theatre
24 - White Marsh, MD - House Of Rock
25 - Cleveland, OH - Peabody'S
26 - St. Charles, IL - The Arcada Theatre
27 - Savage, MN - Neisen'S Sports Bar & Grill
28 - Milwaukee, WI - Shank Hall
30 - Chicago, IL - House Of Blues
November
2 - Orangevale, CA - The Boardwalk
4 - Seattle, WA - Studio Seven
7 - Oakland, CA - The New Parish
8 - Agoura Hills, CA - Canyon Club
9 - San Juan Capistrano, CA - Coach House
10 - Corona, CA - Marquee 15