Legendary Rock Interviews recently caught up with LACUNA COIL vocalist Cristina Scabbia for a look back at the band's extensive career. An excerpt is available below: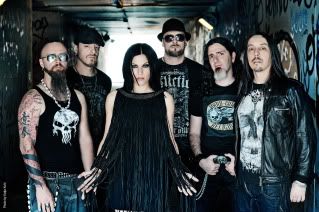 LRI: The Comalies album followed in 2002 and was something of a major breakthrough, at least here in the states which was only compounded by Ozzfest and the 'Heaven's A Lie' video and single. Again, you stray from the norm artistically and musically. I do believe you were the only band on Ozzfest with a pretty flower on your album art….
Cristina: "We always stray away from the typical 'metal' cliche. Always. Of course, we passionately love metal music but we are always thinking ahead and we don't want to be pre-judged or stuck in one genre or one format. We have so many different influences in our music and in our art and we don't want to be limited in either capacity. I remember that people had quite the reaction to 'Heaven's A Lie' and a lot of people thought it was a song about religion. I remember people coming up to me on tour while we were out with P.O.V. who are something of a Christian band and people would say, 'Well, I really love your show and your music but you have a song called 'Heaven's a Lie' so I cannot buy your record.' I was like 'Well, this song doesn't really talk about god or religion at all...' but I can't help the fact that sometimes people judge things at face value without really bothering to read the lyrics or trying to understand what they really mean. If you read a lot into our song titles over the years you might be really far away from what the lyrical content really is. I can't tell you how many interviews Andrea and I did where we spoke of how that particular track isn't a religious song but it doesn't matter how many times we say it, it still comes up from people who don't really follow the band."
LRI: I know the last album Shallow Life (2009) was met with a bit of resistance from some of the critics but it's my favorite of all of the albums easily. I really liked the fact that it was more of a "normal" rock album and all of the songs on the album are incredibly catchy and hooky and not without a sense of humor. Was that a case of you guys growing too fast for some people's taste?
Cristina: "I think if you're a band or an artist you have an obligation to take risks and be challenged or you're never going to go anywhere. I mean we could have easily stuck with the formula that was established with Comalies and done part 2, 3 and 4 but we didn't. We couldn't. We are artists and musicians and this is our world and our world is not static. We are constantly evolving and inspired by different things and that is great. I also think that Shallow Life was misunderstood because of the look that we portrayed or presented in the videos and photos that accompanied that album. I think that the images we were trying to get across to show that we were against the shallow life or the shallow way of being were just missed completely by a lot of people. I think people misunderstood the fact that we were trying to make light of that and actually took us seriously as 'The hip hop guy' or me as 'the pop diva.'
Go to
this location
for the complete interview.
Lacuna Coil recently added a show in Paris, France at Alahambra on October 29th to their Dark Legacy European tour, set for October/November. Their updated tour schedule is below.
As previously reported, the shows will feature a set of more than two hours. Frontwoman Cristina Scabbia commented: "The Dark Legacy tour is a dream come true! This tour will present the history of Lacuna Coil, melding old fans with a new generation of Coilers. The Dark Legacy set will offer both the electric and acoustic vibe and absolute melodic epicness!"
October
22 - Norwich, UK - Waterfront
23 - Wolverhampton, UK - Wulfren Hall
25 - Glasgow, UK - Garage
26 - Manchester, UK - Academy 2
28 - London, UK - Koko
29 - Paris, France - Alhambra
31 - Amsterdam, Netherlands - Melkweg
November
3 - Bochum, Germany - Matrix
4 - Hamburg, Germany - Knust
6 - Augsburg, Germany - Kantine
7 - Frankfurt, Germany - Batschkapp
9 - Leipzig, Germany - Anker
10 - Berlin, Germany - C-Club
12 - Oslo, Norway - John Dee
13 - Stockholm, Sweden Gota Kallare
15 - Copenhagen, Denmark - Little Vega