Mona Miluski, vocalist for Germany's A MILLION MILES - who recently signed a publishing deal with Wacken Open Air / ICS Network's Enorm Music - recently spoke with BW&BK scribe Carl Begai about the band's forthcoming debut album, What's Left Behind. An excerpt from the story is available below: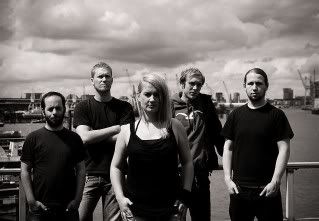 Miluski has had one hell of a time distancing herself from GUANO APES singer and countrywoman
Sandra Nasic
. She's been getting the comparisons to the rock veteran almost since Day 1 in spite of the fact Miluski's delivery is straight out of the PANTERA box a lot of time, and the band's music is far more volatile than the Apes' pop rock anthem sensibilities. Miluski does indeed have moments where she sounds like Nasic, however, which is a good thing in the end. Add to this a generous helping of veteran Canadian rocker Sass Jordan's smokey blues in her throat and Miluski is in excellent company.
Miluski: "I've been compared to Sandra many, many times and to be honest, in the beginning I was a bit annoyed because, like you said, our music has nothing in common with Guano Apes. But I do respect her as a vocalist, and I think they're a good and very successful band with a lot of influence on heavy female fronted music. It could be worse when you get compared to a band (laughs). Most of the general response by people at our live shows is that we are getting compared with Pantera meets Guano Apes, with a hint of bands like ARCH ENEMY. For me personally, a comparison to people like Phil Anselmo is just amazing, as he is one of my main influences in music. I've never listened to many female fronted bands, except MANHOLE, which was the first female fronted band I saw live. Tairrie B Murphy (vocalist) still impresses me with MY RUIN, but I grew up with the male dominated grunge and old school metal scene. In general we don't care about differences between the gender in music and how we can get compared to other bands. We just do what we do and we are who we are."
Click
here
for more.
The band recently checked in with the following update:
"Hey friends! We are stoked and more than proud to have signed a deal with Enorm Music, the publishing company of the mighty Wacken / ICS network! The artist roster of Enorm Music speaks for itself, and to work with one of the most important publishing agencies in the world of metal is a new and massive milestone in the history and young career of A Million Miles. We're more than grateful to be a part of the Wacken family now and are very looking forward to work with Enorm Music on our upcoming debut album! Stay tuned for more good news!"
For information on Enorm Music go to
this location
. Check out A Million Miles' official Facebook page
here
.