On November 6th, author Barney Hoskyns is releasing LED ZEPPELIN: The Oral History Of The World's Greatest Rock Band, via publisher John Wiley & Sons. Hoskyns is a contributing editor at British Vogue who is the author of the bestselling book Hotel California and the co-founder of online music-journalism library Rock's Backpages
The 576-page hardcover is based on more than 200 interviews with everyone from Robert Plant, Jimmy Page, and John Paul Jones to road manager Richard Cole, their late manager Peter Grant, and many others central to the Zeppelin story.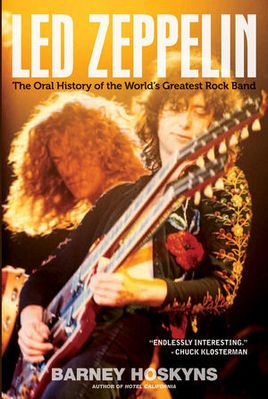 Led Zeppelin: The Oral History Of The World's Greatest Rock Banddescribed as follows:
With Robert Plant on lead vocal and Jimmy Page on guitar, Led Zeppelin is one of the most iconic, legendary, and influential rock bands in musical history. Tales of their indulgence in sex, drugs, and excess have swirled for decades. In this definitive oral history of the band, Barney Hoskyns finally reveals the truth about Led Zeppelin, paring away the myths and describing what life was really like for four young men on top of the world, enjoying fame on a scale that not even the Beatles experienced as a touring live act. Through fresh new interviews with the surviving band members, close friends, their tour manager, and scores of other fascinating characters, Hoskyns provides deep insights into the personalities of the band members and chronicles the group's dramatic rise, fall, and legacy.
Other notes:
- Features striking photos of the band both on and offstage, many published here for the first time
- Takes a fresh look at Led Zeppelin's music, cultural significance, and legend, as well as the highs and lows of the sex, drugs, and rock and roll lifestyle on the road
- Analyzes the way the band wrote, arranged, and recorded, from how they created the stupendous sound and dynamics on 'Dazed and Confused' and 'Whole Lotta Love' to the group's folk-suffused acoustic side embodied in songs like 'Friends' and 'That's the Way'