Finland's ENSIFERUM will release their fifth studio album, Unsung Heroes, on August 27th via Spinefarm Records.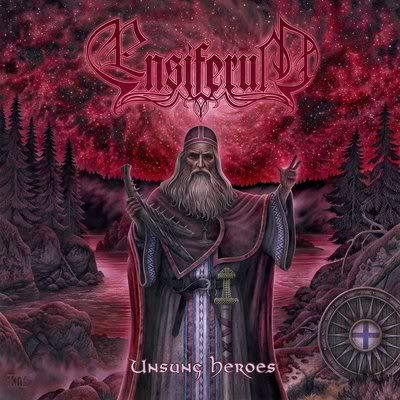 Spinefarm are streaming the album for a limited 24 hour period. Listen via the Soundcloud widget below:
Unsung Heroes was produced by Hiili Hiilesmaa (HIM, SENTENCED, APOCALYPTICA, etc.), and is the follow-up to 2009's From Afar album. The album finds the band pushing their signature sound to bold new heights of drama and excess.
A cinematic experience from first note to last , Unsung Heroes takes the listener on a journey of genuine light and shade, with the 16 minute-plus 'Passion Proof Power' showing that when it comes to the epic statement, Ensiferum are very much in the front-line, swords at the ready.
"We've tried to push the different aspects of what we do as far as we can," reflects the band, "the sonic scope is wider than ever. The folk elements go further down that path and the metallic parts will absolutely rip your face off!"
Once again, album art has been supplied by Kristian Wahlin, with featured special guests including members of APOKALYPTISCHEN REITER, plus legendary Finnish singer/actor, VESA-MATTI LOIRI.
Unsung Heroes tracklisting:
'Symbols'
'In My Sword I Trust'
'Unsung Heroes'
'Burning Leaves'
'Celestial Bond'
'Retribution Shall Be Mine'
'Star Queen (Celestial Bond Part II)'
'Pohjola'
'Last Breath'
'Passion Proof Power'
The track 'Burning Leaves' is streaming below:
'In My Sword I Trust', the new video from Ensiferum, is available below.
The band describes the clip produced by Grupa13 in Poland: "The video tells about how ordinary town people rise up and rebel against a greedy and cruel king and the upper class. There will be swords, corpses and drinking; pretty much all you need for a great video! Folk on!"
Before they take to the road for the Bearers Of The Sword European tour in support of the new album, Ensiferum have announced the Unsung Heroes Finland Tour.
Featuring five shows across the country, Ensiferum will bring their signature folk-infused metal to all corners of Suomi, with support on this trek coming from Finnish "reindeer" metallers A.R.G..
The dates are as follows:
September
5 - Nosturi - Helsinki, Finland
6 - Klubi Tampere - Tampere, Finland
7 - Lutakko - Jyväskylä, Finland
8 - Finlandia-klubi - Lahti, Finland
9 - Klubi Turku - Turku, Finland
Tickets available
here
.
Ensiferum's tour schedule can be found
here
.