Classic Rock Revisited founder Jeb Wright recently caught up with LYNYRD SKYNYRD's Gary Rossington, the only remaining original member of the band. Following is an excerpt from the interview focusing on the band's new album, Last of a Dyin' Breed: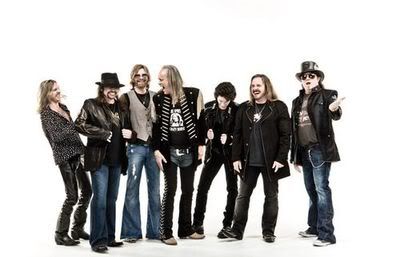 Jeb: I think this album has the classic Skynyrd hard rock sound. I am talking about songs like 'Last of a Dyin' Breed', 'Mississippi Blood' and 'Honey Hole'. There is some harder edge stuff with some kick ass guitars going on.
Gary: "That is what we wanted to do on this album. We wanted to go back to the old roots of the original band and do more rocking, as opposed to being more Country flavored; that is our favorite stuff anyway. We like songs that tell a story that have a good beat and some dual guitars in there. We tried to do it right, like the old band always did."
Jeb: You are the last of the founding members of the band. With all of the different lineups how are you still able to get the true spirit of Lynyrd Skynyrd in your new music?
Gary: "We just do it the way that we've always done it. Once we get the material written, then we just go in the studio and get at it. For our diehard fans, who will like it, and buy it anyway, we want to make it the best we can for the name of Skynyrd and for our brothers that are no longer with us. We keep their memory alive and I really believe their spirit is in these songs. You mentioned 'Mississippi Blood' and I will tell you that if Ronnie and Allen, and the other guys were here, they would say, 'You are doing it right.'"
Jeb: Some people say that this band should not be called Lynyrd Skynyrd. How do you handle that?
Gary: "It is not the original band, we know that and everybody knows that. The newer generation of fans hear the story of what happened and they learn about everything. We started with the Tribute Tour, back in 1987. We did that for the fans, the promoters and the people who were behind us. The thing is that it never stopped, and we never stopped. It has just been ongoing and we have reinvented ourselves, so to speak. It is not the original band, but we just carry the name, the spirit and the music onward. It is all about the music that we wrote so long ago; we want to keep it alive."
Go to
this location
for the complete interview. Click
here
for BW&BK scribe Martin Popoff's recent interview with Rossington.
Last Of A Dyin' Breed features 11 brand new songs, and is the band's first studio album since the 2009 release of God & Guns, which reunites the band with producer Bob Marlette.
The band recently released the lyric video for the track 'Last of a Dyin' Breed'. Check it out below:
Last Of A Dyin' Breed tracklisting:
'Last Of A Dyin' Breed'
'One Day At A Time'
'Homegrown'
'Ready To Fly'
'Mississippi Blood'
'Good Teacher'
'Something To Live For'
'Life's Twisted'
'Nothing Comes Easy'
'Honey Hole'
'Start Livin' Life Again'
Bonus tracks:
'Poor Man's Dream'
'Do it Up Right'
'Sad Song'
'Low Down Dirty'