Society of Leaders in Development (SOLID) is celebrating the organization's 15th year with a month long schedule of events, culminating with a 15th year reception at the Country Music Hall Of Fame. The events will begin with A Conversation with GENE SIMMONS and Doc McGhee on September 4th, followed by other happenings including a food truck lunch at SESAC (with proceeds benefiting Linda's Hope), a job shadow day for local college students and the society's biggest Habitat for Humanity build to date.
The breakfast with Gene Simmons will take place at 8:15AM-10AM at the Hutton Hotel Ballroom.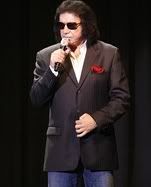 According to a press release: "When SOLID caps off the month of activities with the reception at the Country Music Hall Of Fame, SOLID will officially come full circle returning to the original location of the initial inauguration event. This reception will highlight SOLID's fifteen years as a nonprofit organization in Nashville and the impact it has had on the community and its members. The reception will feature alumni interviews, photos from over the years and an awards ceremony for industry visionaries and impactful alumni."
One of the founding members Chris Neese commented: "Fifteen years ago, a small group of friends gathered to discuss our future. We saw a need to bring aspiring music industry professionals together to create strong social networks, provide education training, promote leadership, and inspire community involvement. Our solution was SOLID. I am proud and honored to see the positive impact the organization has had on so many lives over the last fifteen years. Congratulations SOLID, and I look forward to the next fifteen!"