By Kelley Simms
Pennsylvania-based modern rockers CANDLELIGHT RED's humble and hard-working ethics has kept the band forging ahead since its 2008 inception. By paying its dues, they've started to secure more high-profile gigs; such as the current Rockstar Energy Drink Uproar 2012 Festival tour featuring SHINEDOWN, GODSMACK, STAIND and PAPA ROACH.
Candlelight Red aren't following an American Idol-type trend, they started the good old fashioned way; by slugging it out in the clubs — lots of 'em. The band played all over central PA, New York and the surrounding areas while building up its fan base. Sharing the stage with prominent bands such as DISTURBED, STONE SOUR, AVENGED SEVENFOLD and KISS certainly hasn't hurt their stock either.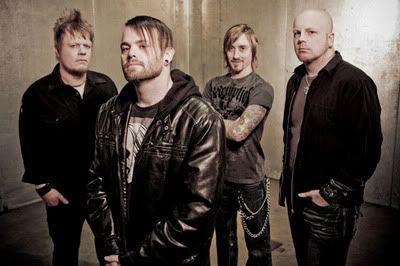 Guitarist Jeremy Edge said that coming from a small town has its advantages. "Any band that's played in New York City or those big cities, it's tough to get a big gig and to get people out to see you. Sometimes in these country-type areas where you have normal bars that are really excited to have you play is an advantage."
In 2010, the band was hand-picked by KISS bassist/entrepreneur Gene Simmons and Guitar Center to open for 'The Hottest Band in The Land' in Pittsburgh. They were chosen among 22 regional contest winners after beating out 10,000 other bands. Candlelight Red also landed the grand prize of $10,000, which allowed the band to go on a Guitar Center shopping spree.
The band continues to take it to the next level by remaining persistent. "It definitely feels like we're headed in the right direction," Edge said. "Sometimes you keep going and going and you hope that it finally pays off by playing all these gigs and hope people come back. We went out with TRAPT for our first tour around March or April of the year and when we showed up to play, we noticed people in the audience that knew the lyrics to our songs in cities that we never played in. When you show up at a new venue and lots of people know your songs. That's pretty surreal."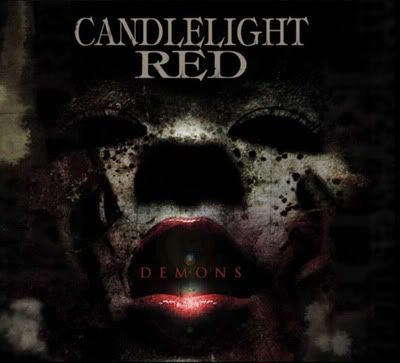 Candlelight Red's debut CD, The Wreckage, wasn't a bad effort by any means, but on the new EP, Demons, produced by SEVENDUST drummer Morgan Rose, they sound much more focused. In five days, they wrote and recorded four songs, which all appear on the EP. It's more of an indicator of how the band wants to sound and it's a sign that Candlelight Red is coming into its own.
Candlelight Red is a "something for everyone" band who has radio-friendly rock/metal/pop rock crossover appeal. Edge feels this concoction is a great mixture of heavy and melodic, which blends together evenly.
"It's just one of those things where it just sounds right to us. Sometimes you get somebody that listens to your stuff and it's hard to classify. Some people say it's not heavy enough, or some people say it's too heavy. People in the business need to categorize but I feel listeners like a good mixture. I think the casual rock fan doesn't like something that's very formula-orientated or spoon-fed and predictable. People get tired of that, too. We're just going to do what sounds right to us."
The band is comfortable doing the tour cycle and one thing's for sure, Candlelight Red can only get bigger from here on out.
"People always say to me that we've made it further than a lot of other bands," Edge concluded. "But it's a lot harder and it's a lot longer road. The guys that I see out here that are doing it, most of them got it through a lot of hard work and persistence. It has paid off for us so far and we're going to keep going."