Underground metallers A BAND OF ORCS have announced they have been confirmed for the last date of the Summer Slaughter Tour on August 25th at the Grove of Anaheim, CA.
Other acts confirmed for the tour are: CANNIBAL CORPSE, BETWEEN THE BURIED AND ME, THE FACELESS, PERIPHERY, VEIL OF MAYA, JOB FOR A COWBOY, GOATWHORE, EXHUMED, and CEREBRAL BORE.
The band will be performing at 1:30PM (PST).
A Band Of Orcs' Summer Slaughter set will include several tracks from the forthcoming album entitled Adding Heads To The Pile, including their latest single released through Itchy Metal Entertainment entitled 'In the Keeper's Chamber'.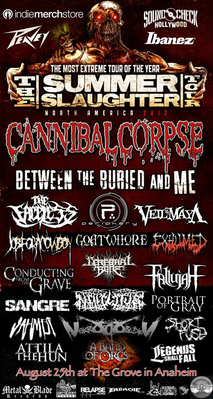 The release date for Adding Heads To The Pile has been pushed back to the end of September.
Bassist Gronk! Commented that the album release date was pushed back because of touring duties. The band has since recorded vocals for the new album. The material is now heading for the mixing process.