British crossover thrashers SSS are gearing up for this weekend's Radfest, which takes place on Sunday, August 19th at Hackney Downs Studios in London, England.
The band will be joining the likes of VERONICA FALLS, TRASH TALK, CEREMONY and more at the one-day festival, which features three stages as well as a market including a poster exhibition, pop-up record store, clothes and food stalls. SSS will be performing at 4:30 PM.
SSS bassist Mark Magill comments: "We're looking forward to getting down and playing Radfest. We always love playing in London. Last time we were down there it was berzerk, so we're hoping this will be more of the same. Come down and say hello!"
More information
here
.
SSS are confirmed for this year's Bloodshed Fest, which takes place on October 12th and 13th in Eindhoven, the Netherlands.
SSS frontman Foxy comments: "We are looking forward to playing at Bloodshed. The lineup is a great solid mix containing none of the usual festival suspects. Going to Europe is always entertaining, both to play and for the sights you get to see. SSS has been smouldering of late. We have been writing new stuff that we will let fly for the first time on these forthcoming gigs!"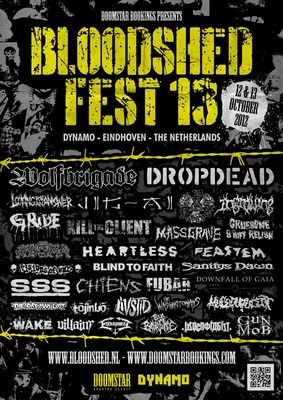 Acts on the bill for the festival include:
Friday, October 12th - JIG AI, LOOKING FOR AN ANSWER, PSYCHOFAGIST, KILL THE CLIENT, MUCUPURULENT, GRUESOME STUFF RELISH, STOMA, BY BRUTE FORCE, FEASTEM, ENTRAPMENT, CHIENS, VILLAINY.
Saturday, October 13th - SSS, DROPDEAD, WOLFBRIGADE, GRIDE, BLIND TO FAITH, PICK YOUR SIDE, MASSGRAVE, LIVSTID, DOWNFALL OF GAIA, INGROWING, HEARTLESS, VISIONS OF WAR, F.U.B.A.R., JOE PESCI, THE DAY MAN LOST, WASHINTONIANS, TOIJNBO, SANITY'S DAWN, GUN MOB, WAKE.
More info at
this location
.