Sweden's KATATONIA will release Dead End Kings on August 27th in Europe, August 28th in North America via Peaceville Records. iTunes pre-orders can be made now for the
Standard
and
Deluxe
editions.
The band recently released a lyric video for the track 'Dead Letters', which can be seen below. 'Dead Letters' is also available for free download at
this location
(email address required).
A continuation of 2009's inspired and acclaimed Night Is The New Day, as well as a leap forward into the unknown, Dead End Kings sees the quintet conjure yet another milestone in audial melancholy and angst.
Amongst their most poignant and ambitious material to date, Dead End Kings was recorded at Ghost Ward Studios and The City Of Glass. The album was produced by founding duo Anders Nyström and Jonas Renkse themselves, and mixed by David Castillo, known for his prior work with the band, as well as OPETH and BLOODBATH.
Dead End Kings sees the recording debut of guitarist Per Eriksson for Katatonia, as well as recent bassist Niklas Sandin. Additionally, Katatonia is joined once again by Frank Default and his invaluable expertise on sampling and atmospherics, plus a special guest appearance by Norwegian vocalist Silje Wergeland of Dutch legends THE GATHERING/ex-OCTAVIA SPERATI.
The album artwork, once more supplied by long-time visual collaborator Travis Smith, can be seen below: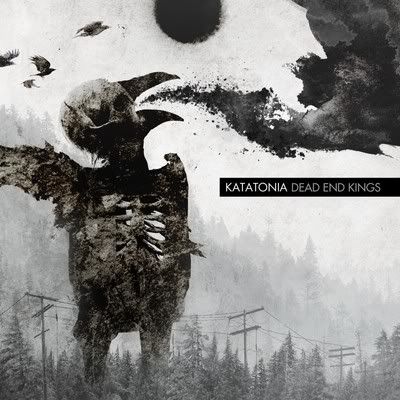 Dead End Kings tracklisting (not final running order)
'The Parting'
'Hypnone'
'Undo You'
'The Racing Heart'
'Buildings'
'Leech'
'The One You Are Looking For Is Not Here' (with Silje Wergeland)
'First Prayer'
'Ambitions'
'Lethean'
'Dead Letters'
Jonas (vocals) comments on the album title: "Dead End Kings is about the corridors of our mind from where there is no return. Be a king or queen in your own right in these hallways, even at the dead end. Carry your burden with pride. That's what we are doing, twenty years and counting. Kings, because we believe in what we are creating, in our own disturbing faith."
Anders (Guitars) comments on the end result: "This album has doors revolving into many different genres of music but remain disguised within the Katatonia trademark. We have walked the fine line between attempting not to repeat ourselves but also not to distance us away from what people know and love. We're now ready to hand over the evidence and whatever the direction this has taken is now for you to decide. We're confident the creativity and passion on this album is something that will be echoing even beyond the dead end."
Katatonia have launched a promotional video for their upcoming Epic Kings & Idols North American tour. The clip features the brand new song, 'Buildings', in its entirety, taken from the band's impending ninth studio album, Dead End Kings, out August 28th via Peaceville Records. Check out the new promo clip below:
Epic Kings & Idols will kick off early next month in Seattle, with co-headliners THE DEVIN TOWNSEND PROJECT. PARADISE LOST and STOLEN BABIES will round out the line-up for the 18-city, September trek.
Epic Kings & Idols dates include:
September
4 - Seattle, WA - Studio Seven *
5 - Vancouver, BC - Commodore
7 - San Francisco, CA - Great American Music Hall *
8 - Los Angeles, CA - El Rey Theater
9 - Phoenix, AZ - Marquee Theater *
11 - Houston, TX - Warehouse Live Studio
12 - Dallas, TX - Trees *
13 - Lawrence, KS - Granada *
14 - Denver, CO - Summit
16 - Minneapolis, MN - Station 4 *
17 - Chicago, IL - Bottom Lounge
18 - Pittsburgh, PA - Mr. Smalls *
19 - Toronto, ON - Opera House
20 - Montreal, QC - Cafe Campus
21 - Worcester, MA - Palladium
22 - Philadelphia, PA - TLA *
23 - New York, NY - Irving Plaza *
24 - Baltimore, MD - Rams Head Live
* Katatonia headline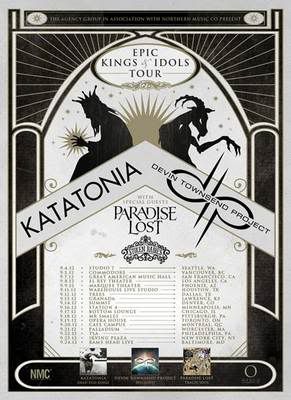 Katatonia recently announced dates for an extensive European tour. The band launched a teaser video for the tour, featuring a snippet of the new track, 'Lethean'. Check it out below:
Lead guitarist Anders Nyström commented on the upcoming tour as follows: "We are very much looking forward to a tour that definitely stands out from the rest. Stare into November's darkness with us! Be with us at the side of December's deathbed! Come meet us at the chosen dead ends of Europe..."
Support comes from French shoe-gazers ALCEST and Boston's JUNIUS. Tour dates at
this location
.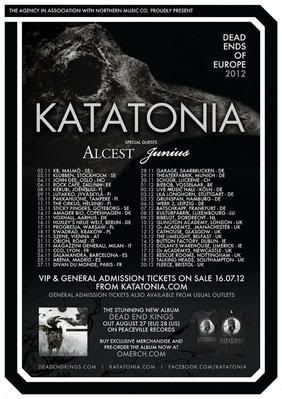 VIP ticket packages for all Epic Kings & Idols and Dead Ends Of Europe dates can be purchased online at
this location
.