Costa Rica-based melodic metal band SIGHT OF EMPTINESS are currently on a European tour with support from BENEATH, OPHIDIAN I, ATRUM, ANGIST, GRUESOME GLORY, REIGN OF FURY, REFLECTION IN EXILE, DAMAGE MY GOD, SPEED DEMON, THE NAIL, and CHICKEN PIE.
The band has now released their first diary from the road. Check it out below:
Remaining tour dates are as follows: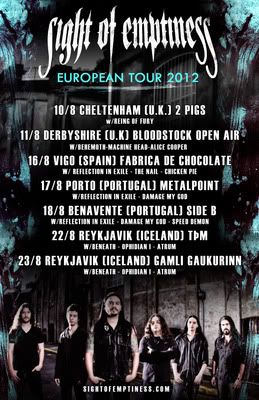 August
16 - Vigo, Spain - Fabrica de Chocolate
17 - Porto, Portugal - Metalpoint
18 - Benavente, Portugal - Side B
22 - Reykjavik, Iceland - TÞM
23 - Reykjavik, Iceland - Gaukur á Stöng
Sight Of Emptiness recently finished recording their third and its as-yet-untitled new album, to be released later this year. The CD was recorded at SoloHits Studios in San José, Costa Rica by Swedish Producer Thomas "Plec" Johansson, who traveled all the way to Costa Rica to work with the band closely for about 22 days. The mixing and mastering duties are being handled by Thomas Johansson at Panic Room Studios in Skara, Sweden.
Check out five studio video reports below:
The album will feature guest appearances by the following top musicians: Glen Drover (KING DIAMOND, Megadeth), Christian Älvestam (SCAR SYMMETRY, MISERATION, SOLUTION .45), Whitfield Crane (UGLY KID JOE, ANOTHER ANIMAL), Ralph Santolla (DEICIDE, ICED EARTH, OBITUARY), Ole Halvard Sveen (EXTOL, MANTRIC, LENGSEL) and last but not least, one that comes as a shocking but pleasant surprise, no other than the Minister of Culture of Costa Rica; Manuel Obregón who plays the Marimba and the acoustic piano.