According to
Billboard.com
, weeks after its landmark album Appetite For Destruction celebrated its 25th anniversary, GUNS N' ROSES has announced its first-ever Las Vegas residency, dubbed Appetite For Democracy.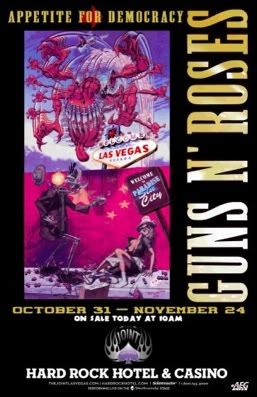 The 12-date run at The Joint inside the Hard Rock Hotel & Casino will start on Halloween (October 31st) and conclude on November 24th. The current iteration of GN'R rang in 2012 with a sold-out performance at The Joint on New Year's Eve last December.
"They were incredible; we watched them perform their timeless hits and soon-to-be legendary songs off Chinese Democracy," says Bobby Reynolds, vice president of booking at residency producer AEG Live, Las Vegas, in a statement. "Immediately following, AEG Live and Hard Rock began turning our fantasy of having them as a resident artist into a reality."
Tickets for Appetite For Democracy start at $45 and go on sale this Friday (August 17th) at 10:00 AM.