In a Q&A with San Diego Union-Tribune, KISS singer/rhythm guitarist Paul Stanley discusses the band's upcoming studio album, Monster. An excerpt follows:
Q: How different or similar is your impetus for making music now than 20 or 30 years ago?
A: "Interesting question. You sure this is for the San Diego newspaper? I think it's, well, it comes from a much more fertile place (now), because - as you live - in some way or another, your experience or perspective is enhanced and influenced by your life. So the danger is, as time goes on, you can find yourself a more adept songwriter, but not writing better songs. Because I don't believe the key to writing great rock 'n' roll is honing your songwriting expertise. Sometimes, that can get in the way. You almost have to make an effort, on some level, to deprogram yourself and unlearn things. Because the beauty of some of the earlier material (you write) is its lack of restrictions, a lack of understanding of the so-called laws of writing. And, as you continue, you learn a craft that may get in the way of the essence of what rock 'n' roll is supposed to be."
Q: If my hearing is accurate, the lyrics to the song 'Back To The Stone Age' on the upcoming new KISS album start: 'In the beginning there was darkness and there was light / At the dawn of creation there was fear / In the dead of night there was thunder...' Did you at any point think of Spinal Tap and Stonehenge?
A: "Hah! I don't think any rock band born of that period when we were can get away without, at some point, parallels being drawn (with Spinal Tap). I don't see it there (in that song), but Spinal Tap had a lot of bands squirming in their seats when they saw it. We've all been there, to one degree. Every band can look at some scenes in that movie and say: 'That was us.' But (the song) 'Back To The Stone Age' - is really more a battle cry of getting back to basics."
Q: Is that a mantra for the new album?
A: "I think so. I consider myself an Anglophile and the bands I grew up listening to are 99.9 percent British. But that music wouldn't exist unless they had listened to (Delta blues pioneer) ROBERT JOHNSON and BLIND BOY FULLER and LITTLE RICHARD. What I loved about English music is it took the roots of great American music and put it on steroids and dressed it up, and interpreted it in a way that, to me, was very appealing. Going to the Fillmore and seeing all these bands, there was so much style to them, visually, and an incredible sexuality, to a lot of them. And they also, in their own way, took (HOWLIN' WOLF lead guitarist) Hubert Sumlin and all things that were the foundation of American blues and took it somewhere else."
Read more at
this location
.
KISS will be the featured guest on US nationally syndicated radio show Rockline with host Bob Coburn today, Monday, August 13th at 8:30pm PT/11:30pm ET. Fans are encouraged to call to speak with KISS toll free at 1-800-344-ROCK (7625). For more information on finding a station near you and for information regarding how to log onto the internet broadcast go to
Rocklineradio.com
. The show will be streamed on the Rockline website for two weeks beginning the afternoon after the live broadcast.
KISS will release their new studio album, Monster, on October 16th.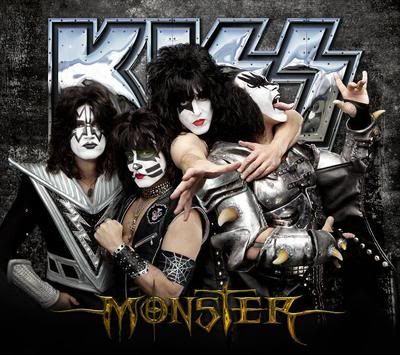 Monster tracklisting:
'Hell Or Hallelujah'
'Wall Of Sound'
'Freak'
'Back To The Stone Age'
'Shout Mercy'
'Long Way Down'
'Eat Your Heart Out'
'The Devil Is Me'
'Outta This World'
'All For The Love Of Rock & Roll'
'Take Me Down Below'
'Last Chance'
'Right Here Right Now'
Pre-orders for the album are available now via iTunes stores worldwide.
KISS and MÖTLEY CRÜE are currently on the road together for The Tour. The schedule is now as follows:
August
14 - Verizon Wireless Amphitheater - Irvine, CA
15 - Shoreline Amphitheatre - Mountain View, CA
16 - Sleep Train Pavilion - Concord, MA
18 - White River Amphitheatre - Auburn, WA
19 - Sleep Country Amphitheater - Ridgefield, CT
24 - Rock Jam Grand - Junction, CO
26 - BOK Center - Tulsa, OK
27 - Verizon Wireless Amphitheatre - Maryland Heights, MO
29 - Minnesota State Fair - Minneapolis, MN
31 - Riverbend Music Center - Cincinnati, OH
September
1 - Klipsch Music Center - Noblesville, IN
2 - First Niagara Pavilion - Burgettstown, PA
4 - Bridgestone Arena - Nashville, TN
5 - DTE Energy Music Theatre - Clarkston, MI
7 - First Midwest Bank Amphitheatre - Tinley Park, IL
8 - Alpine Valley Music Theater - East Troy, MI
11 - Allegan County Fair - Allegan, MI
12 - Blossom Music Center - Cuyahoga Falls, OH
13 - Molson Amphitheatre - Toronto, ON
15 - Darien Lake PAC - Darien Lake, NY
16 - Comcast Center - Mansfield, MA
18 - Toyota Pavilion - Scranton, PA
19 - Susquehanna Bank Center - Camden, NJ
21 - PNC Bank Arts Center - Holmdel, NJ
22 - Nikon at Jones Beach - Wantagh, NY
23 - Comcast Theater - Hartford, CT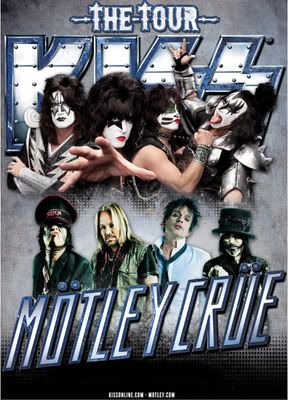 KISS will return to Mexico for shows in Mexico City and Monterrey. Mötley Crüe will join KISS at the Mexico City stop only.
Dates include:
September
29 - Mexico City, Mexico (with Mötley Crüe)
October
1 - Monterrey, Mexico (KISS only)
KISS performed on August 1st at the KFC Yum! Arena in Louisville, KY. Video of the band performing 'Shout it Out Loud' can be seen below. The clip was filmed by Keith Leroux for KISSOnline.com.