Greece's Rockoverdose.gr has issued an interview with bassist Damien Sisson of legendary Bay Area thrash metallers DEATH ANGEL. An excerpt follows:
Q: So far, who's your favorite band to tour with?
A: "Favourite band to tour with... EXODUS, SEPULTURA, TESTAMENT, KREATOR... I like 'em all, but there's definitely a bond between the Bay Area bands, all having grown up together and having shared so much history. They all say the same thing at one point, 'Who'd a though we'd still be doing this after all these years!' I think many of the original thrashers - we're just following a feeling the felt, they never projected a long-term plan to stay in the game. It's just the passion from the fans for the bands that has kept so many ripping bands alive. So, my favorite bands to tour with are the bands with rabid fans."
Q: What are your upcoming plans? Are there any ideas for a new album?
A: "Funny you should ask upcoming plans because writing a new album should be top-list right now. However, these opportunities to tour just keep coming up, so before we hit the studio, we do have Leg III of the ANTHRAX / TESTAMENT tour, hitting Pac-Northwest, Canada, and North-East States. It'll be bitchin' I suspect. Lock up your bottles of Jager and Gin... Catering rooms across the States, prepared to be raped!
Read the full interview at
this location
.
Death Angel recently announced they will be performing their 1987 album The Ultra-Violence, in its entirety at all upcoming headlining shows.
Guitarist Rob Cavestany commented on the band's upcoming tour schedule: "We had such a blast on the first two legs that we had to come back for thirds. Testamen, Anthrax, Death Angel North American Tour Part III coming at ya live this September/October! This run will see us performing more dates in Canada since our Frolic Through The Park Tour in 1988!
To top it off, after that tour ends, we continue on the road in the states with headline shows in support of the Silver Anniversary of our debut album The Ultra-Violence. We will be performing the entire album from beginning to end. We have never done this in the USA so prepare for a wicked set of pure old school THRASH!
Looking forward to seeing all our crazy fans, friends and family out on the road again soon! Until then we shall use all the energy we've stored up from nonstop touring to continue writing our next album!"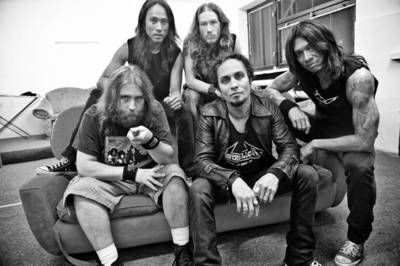 All upcoming tour dates are as follows:
September (with Anthrax and Testament)
14 - Sacramento, CA - Ace Of Spades
15 - Portland, OR - Roseland Theatre
16 - Kennewick, WA - Toyota Center
17 - Spokane, WA - Knitting Factory
20 - Vancouver, BC - Vogue Theatre
21 - Calgary, AB - MacEwan Hall
22 - Edmonton, AB - Edmonton Event Centre
24 - Saskatoon, SK - Odeon Event Center
25 - Winnipeg, MB - Burton Cummings Theatre
29 - Toronto, ON - Danforth Music Hall
30 - Quebec City, QC - Capitole du Quebec
October (with Anthrax and Testament)
2 - Montreal, QC - Metropolis
3 - Portland, ME - State Theater
5 - Montclair, NJ - Wellmont Theatre
October (headline shows)
7 - West Springfield, VA - Empire
9 - Charlotte, NC - The Casbah
10 - Atlanta, GA - The Earl
11 - Jacksonville, FL - The Roc Bar
12 - Tampa, FL - Orpheum Theatre
13 - Miami, FL - Churchill's
14 - Orlando, FL - The Social
16 - San Antonio, TX - Korova
17 - El Paso, TX - House of Rock
18 - Tempe, AZ - Rocky Point Cantina
19 - West Hollywood, CA - Whisky A Go Go
20 - Santa Rosa, CA - Last Day Saloon
21 - San Jose, CA - The Rodeo Club