Examiner.com's Mark Morton has issued a new interview with DYING FETUS drummer Trey Williams. An excerpt follows:
Q: Dying Fetus has a history of very high standards regarding its drumming. When you joined the band, did you have any fear or apprehension of not only meeting, but retaining that level of professionalism?
A: "No fears, really. But sure, there was intimidation. I mean, I'm playing in one of my favorite bands; they were one of the bands I always looked up to when I was trying to learn to play extreme metal. So, yeah, it was an intimidating thing to do, but when you get asked to be a part of a group like this, you gotta put your fear aside and do your job! And in order to keep this thing up, you just gotta practice a lot!"
Q: One of the things I really enjoy about (new album) Reign Supreme is that the song structure makes sense. There are a lot of extreme metal bands out there that rely so heavily on technical prowess that they forget how to write songs. Dying Fetus, I don't know if by nature or by observation, seems to have found this delicate balance between technical performing within a structured environment.
A: "The problem with too many technical parts is that you lose people; you really do. People don't throw down with you; they end up just standing there watching you, as if they're taking notes. They get more awestruck by your technique and miss the groove of the music.So, one thing we really tried to do on this album was not only to keep the technical parts in there and step them up to a degree, but also to keep those slams in there; keep the grooves and hardcore parts in there prominently. If people are influenced by what we do, we are always flattered by it, but we just try to do what Dying Fetus does!"
Read the full interview at
this location
.
Dying Fetus have announced two shows this September in New Jersey and New York in support of their latest release, Reign Supreme. The band will hit Dingbatz in Clifton, NJ on September 6th and Revolution in Amityville, NY on September 7th. These shows will serve as warm up shows for their upcoming European tour.
Reign Supreme is out now via Relapse Records. Upon release, the album landed spots on four of Billboard's charts. Reign Supreme came in at #181 on the Top 200 Chart, #4 on the Heatseekers Chart, #14 on the Hard Music Chart and #31 on the Independent Chart.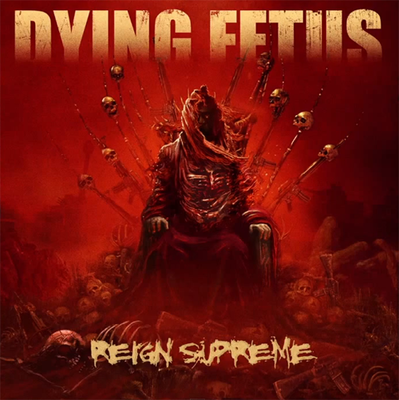 Check out a Reign Supreme full album preview below:
The new video for the song 'From Womb To Waste' can be seen below:
Dying Fetus have announced the From Womb To Waste European Tour 2012 with JOB FOR A COWBOY, REVOCATION, CEREBRAL BORE. Dates are below.
September
14 - Lindau, Germany - Club Vaudeville
15 - Genève, Switzerland - L'Usine
16 - Brighton, UK - Concorde2
17 - Norwich, UK - Waterfront Tickets
18 - Birmingham, UK - O2 Academy 2
19 - Reading, UK - Sub89
20 - Manchester, UK - Club Academy
21 - Glasgow, UK - Cathouse
22 - Dublin, Ireland - The Pint
23 - London, UK - Underworld
24 - Paris, France - Divan Du Monde
25 - Nijmegen, Holland - Doornroosje
26 - Hamburg, Germany - Markthalle
27 - Malmö, Sweden - KB
28 - Gothenburg, Sweden - Sticky Fingers
29 - Stockholm, Sweden - Klubben
October
1 - Helsinki, Finland - Tavastia
3 - Copenhagen, Denmark - Vega
4 - Berlin, Germany - C-Club
5 - Würzburg, Germany - Posthalle, Hell Inside Fest
6 - Jena, Germany - F-Haus
7 - Prague, Czech Rep - Hoodoo club
8 - München, Germany - Backstage
9 - Wien, Austria - Arena
10 - Ljubljana, Slovenia - Gala Hala / Kino Siska
11 - Legnano (Milano), Italy - Land Of Live Club
12 - Aarau, Switzerland - Kiff
13 - Essen, Germany - Turock
14 - Aarschot, Belgium - De Klinker
BraveWords.com's review of Reign Supreme can be found
here
.