Bassist Pär Sundström of Swedish metallers SABATON checks in from the band's run through European summer festivals to announce the following:
"Hello our American friends, we know you have been looking forward to this. As you know, we had to cancel a few shows on our last US tour. Now we have some great news: we will do these shows in February next year! And even better, we have been able to add some more shows… this time on the West Coast since the last tour was focused on the East Coast. Can't wait to return to the US!"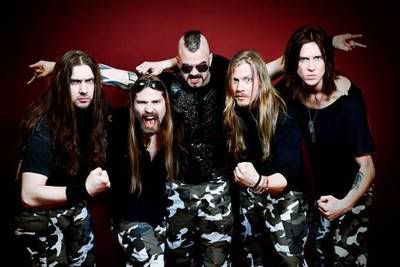 Headlining in support of their latest studio album, Carolus Rex, eleven cities will be saturated with Sabaton's fist-pumping anthems that celebrate the triumph of the human spirit. Local bands will open every show.
North American dates are:
February
2 - Brass Mug – Tampa, FL
4 - Scout Bar – Houston, TX
5 - Trees – Dallas, TX
7 - 910 Live – Tempe, AZ
8 - Yost Theater – Santa Ana, CA
9 - Thee Parkside – San Francisco, CA
11 - Hawthorne Theater – Portland, OR
12 - El Corazon – Seattle, WA
13 - The Venue – Vancouver, B.C. CANADA
15 - In The Venue – Salt Lake City, UT
16 - Moe's – Englewood, CO
Advanced tickets for these shows and VIP Meet & Greets (excluding San Francisco) are available through EnterTheVault.com. After September 6th, tickets are available through all other ticket outlets.
Sabaton previously confirmed more dates of their upcoming Swedish Empire Tour, together with ELUVEITIE and WISDOM. Included in the new dates are shows for 2013. The updated tour schedule is below: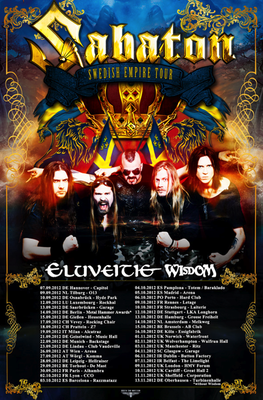 September
7 – Hannover, Germany - Capitol
9 – Tilburg, The Netherlands - O13
10 – Osnabrück, Germany - Hyde Park
12 - Luxembourg - Rockhal
13 – Saarbrücken, Germany - Garage
14 – Berlin, Germany - Metal Hammer Awards
15 – Gießen, Germany - Hessenhalle
17 – Lausanne, Switzerland - Rocking Chair
18 – Pratteln, Switzerkand - Z7
19 – Milano, Italy - Alcatraz
21 – Geiselwind, Germany - Music Hall
22 – Munich, Germany - Backstage
23 – Lindau, Germany - Club Vaudeville
26 – Vienna, Austria - Arena
27 – Wörgl, Austria - Komma
28 – Leipzig, Germany - Hellraiser
29 – Torhut, Belgium - De Mast
30 – Paris, France - Alhambra
October
10 – Lyon, France - CCO
10 – Barcelona, Spain - Razmatazz
4 – Pamplona, Spain -Totem / Barakaldo
5 – Madrid, Spain - Arena
6 – Porto, Portugal - Hard Club
9 – Rennes, France - L'Etage
10 – Strasbourg, France - Laiterie
12 – Stuttgart, Germany - LKA Longhorn
13 – Hamburg, Germany - Große Freiheit 36
14 – Amsterdam, The Netherlands - Melkweg
15 – Brussels, Belgium - AB Club
16 – Cologne, Germany - Essigfabrik
18 – Copenhagen, Denmark - Amager Bio
19 – Göteborg, Sweden - Lisebergshallen
20 – Oslo, Norway - Rockefeller
21 – Stockholm, Sweden - Arenan
November
1 - Norwich, UK - Waterfront
2 - Wolverhampton, UK - Wulfrun Hall
3 - Manchester, UK - HMV Ritz
4 - Glasgow, Scotland - Garage
6 - Belfast, Ireland - The Limelight
7 - Dublin, Ireland - Button Factory
9 - London, UK - HMV Forum
10 - Cardiff, UK - Great Hall 2
11 - Sheffield, UK – Corporation
13 – Oberhausen, Germany - Turbinenhalle
22 – Helsinki, Finland - The Circus
23 – Tampere, Finland - Pakkahuone
24 – Oulu, Finland - Teatria
27 – Malmö, Sweden - KB
28 – Kalmar, Sweden - Palace
29 – Karlskrona, Sweden - Idrottshallen
30 – Huskvarna, Sweden - Folkets Park
December
1 – Norrköping, Sweden - Flygeln
4 – Uppsala, Sweden - Konserthuset
5 – Sundsvall, Sweden - Stadshuset
7 – Piteå, Sweden - Norrmalmia
8 – Umeå, Sweden - Idunteatern
12 – Linköping, Sweden - Garden
13 – Lund, Sweden - Mejeriet
14 – Ängelholm, Sweden - Ekebo
15 – Örebro, Sweden - Conventum Kongress
21 – Oslo, Norway - Subscene
22 – Karlstad, Sweden - Nöjesfabriken
2013 dates:
January
11 – Sydney, Australia - The Enmore Theatre
12 – Melbourne, Australia - The Prague
14 – Melbourne, Australia - The Palace Theatre
28 – Miami, FL - 70.000 Tons Of Metal
August
2 – Wacken, Germany - Wacken Open Air