Guitarist MARTY FRIEDMAN (ex-MEGADETH), who currently lives and works in Japan, has issued the following update:
"I have a song on the #1 album in Japan today! Stoked! The song is 'LA+Love And Peace' on the Gift Of Smap album. I have played guitar on a few #1s before but this is my first songwriting #1 anywhere! The lyrics were written by Satomi, who wrote the fantastic 'Yuki no Hana' which I covered on my first Tokyo Jukebox album."
Go to
this location
at Amazon Japan for information on the Gift Of Smap release. Watch for an audio sample of 'LA+Love And Peace', coming soon.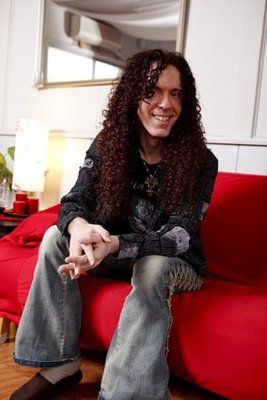 Friedman recently issued the following message to his North American fans:
"I am so flattered and thrilled when all of you ask me to play in your state or city in the US. I want to play in every single place you mention. To make that happen, local promoters in your areas need to know that a Marty Friedman show in your area is going to be a successful venture for them. The best way to do that is to buy the CDs. Promoters take chart action seriously when considering shows. I haven't released CDs in the US for quite some time, so a good spike in US CD sales will make promoters take notice and help insure a show in your area.
Current Marty Friedman tour dates are as follows:
October
9 - Colmar, France - Le Grillen
10 - Zoetermeer, Holland - Boerderij
12 - London, UK - Underworld
13 - Dublin, Ireland - The Village
15 - Paris, France - Divan du Monde
16 - Nantes, France - Le Ferrailleur
17 - Bilbao, Spain - Kafe Antzokia
19 - Lisbon, Portugal - Side B
20 - Madrid, Spain - Ramdall
21 - Barcelona, Spain - Salamandra
22 - Toulouse, France - Connexion Live
23 - Montpellier, France - Secret Place
24 - Toulon, France - Le Vox
25 - Prato, Italy - Keller Platz
26 - Milan, Italy - Carlito's Way