METALLICA have issued the following update:
"Hola from Mexico City! We're having such an amazing time here that it's a little hard to think about what's happening next year, but here we are with news that we'll be visiting another favorite part of the world for us, Australia! In February and March of 2013, we will be headlining the Soundwave Festival in the following cities:
February 23 - Brisbane
February 24 - Sydney
March 1 - Melbourne
March 2 - Adelaide
March 4 - Perth
Specific venues will be announced at a later time. All shows are general admission, but Soundwave Festival members may purchase tickets early in the following pre-sales:
Sydney: Wednesday August 15 at 9:00 am local time
Adelaide/Perth: Thursday August 16 at 9:00 am local time
Brisbane/Melbourne: Friday August 17 at 9:00 am local time
Register to be a Soundwave Festival member at
Soundwavefestival.com
.
Tickets for all cities go on sale on Thursday August 23 at 9:00 am local time at
Soundwavefestival.com
."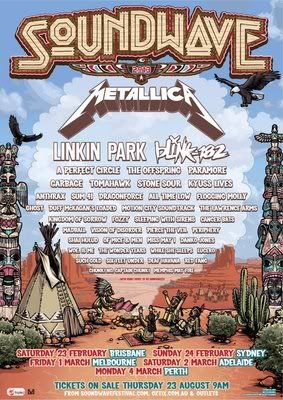 Other Soundwave bands include A PERFECT CIRCLE, STONE SOUR, KYUSS LIVES!, ANTHRAX, DRAGONFORCE, DUFF MCKAGAN'S LOADED, KINGDOM OF SORROW, FOZZY, CANCER BATS, VISION OF DISORDER, DANKO JONES, SIX FEET UNDER and more!