Chicago-based death metal group BLACK SEPTEMBER have confirmed a September 25th release date for their new album, Into The Darkness Into The Void, which was recorded in the band's hometown at Bricktop Recording by Andy Nelson. The band has described the new album as "ravenous and pure" and "one step beyond our previous efforts into a realm of untamed energy."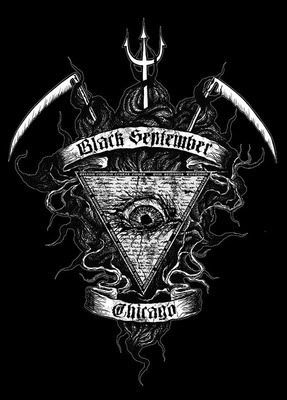 Black September - who have previously performed with the likes of ENSLAVED, SKELETONWITCH, TRAGEDY, 3 INCHES OF BLOOD, THOU, ALCEST and more - have also announced a record release show on September 29th at Chicago's Ultra Lounge. Support will be provided by Pittsburgh death metallers ABYSME, black sludgers COFFINWORM and fellow Chicagoans TERMINATE.
Into The Darkness Into The Void tracklisting:
'Into The Darkness'
'Solitude'
'Rabid Hunger'
'Cursed'
'Invocation'
'Beyond The Realms'
'Defiance'
'Unhallowed Ground'
'No Return'
Into The Darkness Into The Void is the follow-up to 2010's The Forbidden Gates Beyond. For more on Black September head to
this location
.