JACK RUSSELL'S GREAT WHITE will be performing at the world famous Whisky A-Go-Go on August 16th, as part of the Sunset Strip Music Festival. This is the first time Jack Russell has played the legendary venue in over 30 years, and to celebrate the homecoming, the show will be recorded and given away to the fans as a free download.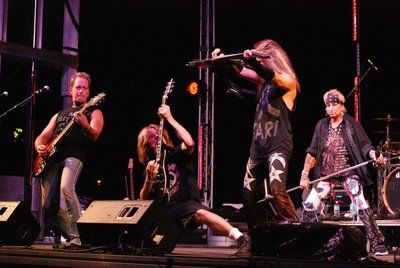 As part of this very special occasion, original Great White drummer Gary Holland, and former Great White bass player (from the Twice Shy era) Tony Montana, will each be joining the band on stage for a song. Other surprise guests are planned as well. Along with the performance will be back stage footage of the band, along with exclusive interviews, sound check footage, etc.
This performance is part of the America Rocks tour, which featured Jack Russell's Great White as the headliner, with special guests FASTER PUSSYCAT, BULLET BOYS, PRETTY BOY FLOYD and LILLIAN AXE. The tour criss-crossed North America throughout June and July, and will wrap up on August 18th, in Fresno, CA. This final leg of the tour does not include Pretty Boy Floyd or Lillian Axe.
The free download of the Whisky show will be available through
JacksGreatWhite.com
later in the year.