Gus Griesinger at BackstageAxxess.com caught up with GREAT WHITE's Mark Kendall (guitars), Michael Lardie (guitars) and Terry Ilous (vocals) on August 5th. Check out the interview below:
Kendall and Lardie stopped by the BraveWords.com's offices recently to discuss the positive new vibe surrounding Great White. When asked if it was 'scary' to bring in a new lead singer thirty years into your career the pair responded:
Lardie: "Not scary for me at all, I looked ahead to the challenge. Sometimes in life you are presented with change and you must decide if you move forward or stand still. With Terry as the singer, we are running once again!"
Kendall: "He's been doing shows with us for about a year and a half. When we did our EP in 1982 - our big first show was to play the Troubador (in L.A.) and we played two nights because the first night sold out really quick. So, we thought it would be fun to go back and play our 30th anniversary show in a club in Hollywood. We decided to play the legendary club that used to be called Gazzari's - that place is now called the Key Club. At one point, they had a mural with THE DOORS, VAN HALEN, MÖTLEY CRÜE, HUEY LEWIS and I was right in middle of those guys playing my old B.C. Rich Mockingbird guitar... So, it was just all that nostalgia, so we thought it would be fun to do our 30th anniversary show with Terry. We'd already done '80' shows with him and people have really accepted him (especially promoters). I can't remember getting so many emails from promoters saying how professional we were or 'wow, what a show and can't wait to book you guys again'. Just really positive feedback."
Read the entire interview
here
.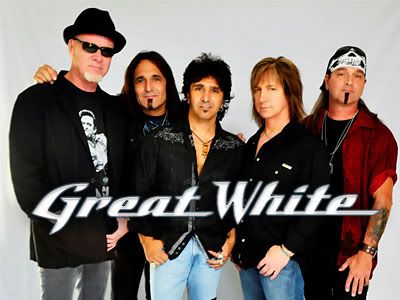 Great White's new album, Elation, is out now. The tracklisting includes:
'(I've Got) Something For You'
'Feelin' So Much Better'
'Love Train'
'Heart Of A Man'
'Hard To Say Goodbye'
'Resolution'
'Shotgun Willie's'
'Promise Land'
'Lowdown' (Bonus Track)
'Just For Tonight'
'Love Is Enough'
'Complicated'
'Hard To Say Goodbye' (Acoustic Version) - Japanese Bonus Track
Great White 2012:
Terry Ilous – lead vocals
Mark Kendall – lead guitar
Scott Snyder – bass guitar
Audie Desbrow – drums
Michael Lardie – guitar, keyboards