German power metallers PARAGON have inked a deal with Napalm Records. The band's tenth album, Force Of Destruction, is scheduled for an end of October release.
The new longplayer was produced by Piet Sielck (GAMMA RAY, BLIND GUARDIAN, IRON SAVIOUR) at Powerhouse, Hamburg. Guest Vocals on the bonus version of the song 'Blood & Iron' by Kai Hansen (Gamma Ray, UNISONIC) and Piet Sielck.
The band previously issued an update on the new album. Bassist Jan Bünning stated: "I just had the pleasure to listen to our full new album and can only tell you it´s a fuckin´ HUGE piece of pure heavy metal. I know that every band says it, but this one is our best so far. Excellent songs, excellent riffing, excellent lead vocals, execllent cover art and the best sound Piet (Sielck) had ever mixed for any band. I am really looking forward for your reactions when it is released! By the way: It happend that we have TWO guest singers now..."
Paragon recently issued the following: "We are pleased to welcome our new second guitarist Jan Bertram (pictured below). We have only three samples with him behind us but we are sure that it was the absolute right choice. Welcome to the crew Jan!"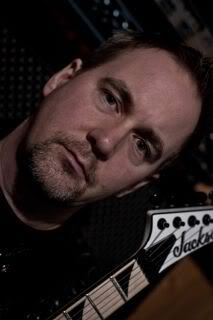 Paragon lineup:
Andreas Babuschkin - Vocals
Wolfgang Tewes - Guitar, Backing Vocals
Jan Bertram - Guitar, Backing Vocals
Jan Bünning - Bass, Backing Vocals
Chris Gripp - Drums, Backing Vocals
More on the band at
this location
.