BraveWords.com has landed at the Wacken Open Air festival, being held in Wacken, Germany this weekend (August 1st - 4th). Last night (Thursday, August 2nd) featured headliners SAXON, SEPULTURA (& LES TAMBOURS DU BRONX), VOLBEAT and U.D.O. with special guests.
For Biff Byford and Co., Wacken is their second home and the singer exclaimed that whenever the band announces a final show, it will be on the Wacken Holy Land. The British staples performed yet another top-notch greatest hits set which featured the likes of 'Denim & Leather', 'Motorcyle Man' and 'Crusader'.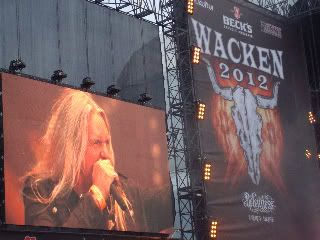 U.D.O.'s career-spanning set featured a slew of ACCEPT (the brilliant 'Screaming For A Love Bite', 'Princess Of The Dawn', 'Head Over Heels' and of course the closer 'Metal Heart') and the duet with DORO, 'Dancing Like An Angel'. But the singer dug deep when he invited former members (Andy Susemihl, Mathias Deih, Thomas Smuszynsky) and his son (Sven Dirkschneider) for the band's early classics like the unforgettable 'Heart Of Gold', 'Animal House' and 'They Want War'.
Volbeat rocked the house with the enviable stage time (10:30 until midnight) and the crowd soaked up material from
2008's Guitar Gangsters & Cadillac Blood and their latest, Beyond Hell/Above Heaven including 'Fallen', 'Heaven Nor Hell' and their latest single 'Still Counting' which closed off the night. During their set, Volbeat were joined by NAPALM DEATH's Barney Greenway, KREATOR mainman Mille Petrozza, MERCYFUL FATE legend Hank Shermann, and Mercyful Fate/KING DIAMOND guitarist Michael Denner, for the song '7 Shots'.
Sepultura were joined by the Les Tambours Du Bronx featuring sixteen drummers from France who beat 225 litre barrels with beech wood bats or even axe handles. The pairing took the Brazilian's percussion to another level as such classics as they stormed through 'Refuse/Resist', 'Territory', 'Roots Bloody Roots' and of course 'Ratamahatta'!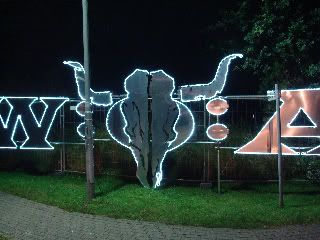 We're gearing up for Day #2 which will include OPETH, OVERKILL, KAMELOT, IN FLAMES, HAMMERFALL, SANCTUARY and the headliner DIMMU BORGIR & ORCHESTRA! Chatting with one of their entourage, the band had booked 60 (yes 60!) rooms in Hamburg for all the performers!!!!