Indianapolis-based extreme thrashers RADIATION SICKNESS are gearing up to release their first studio album in 20 years, The Madness Begins 1987-1990, on Abyss Records. Featuring some of the most intense screeching vocals this side of THE ACCUSED and backed by a powerful thrashing/grinding sound, this 38 track anthology spreads the sickness to the masses and includes lyrics and liner notes along with 25 minutes of live video footage with an extra PDF format booklet with more photos, flyers and info.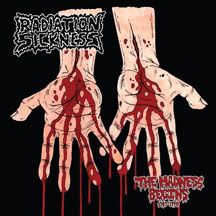 "I used to sell the band's demos back in the early underground tape trading days as a teenager," states label owner Mark Jason Murray. "Radiation Sickness was always a favorite back then and I just loved the intensity the band had, none of which was lost over the years so I am really proud to be able to compile this release of their early work!"
Band co-founder and vocalist Doug Palmer comments, "After being split-up for 18 years, Radiation Sickness was talked into doing a one-off reunion show on October 15, 2010. It was supposed to be only one show but the vile dark and demented music never leaves your black blood and we were hooked again. Worse than any needle or Opiates. One show turned into a second and so here we are with a new album being released and this complete discography on Negative Reaction Records. This is truly when the sickness and madness began.Radiation Sickness is back from the dead spreading the sickness; bi-polar disorder and schizophrenia once again.
This CD is a part of our life that we are truly proud of. It was a new form of music breaking out a sick, brutal 'Fuck off and fuck you' style. Play fast, play with pure insanity and darkness. I hope you enjoy this collection as much as we did writing, recording and performing it."
Album details are as follows:
- 38 tracks
- almost 70 minutes of material
- includes demos, 7" EP and live tracks
- 8 page booklet including lyrics and liner notes
- CD extra bonus material including 25 minutes of live footage and a PDF file including more flyers, photos and artwork
Radiation Sickness - The Madness Begins 1987-1990 will be available in stores and at all major online retail outlets and digitally on September 11th. It is now available for pre-order below.