In a new audio interview with Toronto's Q107, RUSH frontman Geddy Lee discusses the band's Time Machine Tour that began in 2010 and ended July 2011. Listen below:
Rush guitarist Alex Lifeson joined ALICE COOPER on his radio program, Nights with Alice Cooper, on Thursday, June 21st. A podcast of the episode is now online at
this location
.
ECW Press has unveiled two exciting special editions of Rush's Clockwork Angels: The Novel (ECW Press, September 2012), the landmark literary collaboration between Rush drummer and lyricist Neil Peart and bestselling SF author Kevin J. Anderson. These two numbered special editions of Clockwork Angels: The Novel will be available for preorder on Friday, July 27. The Silver Edition, slipcased and autographed by both Kevin J. Anderson and Neil Peart, will be a beautiful addition to any collection. This limited edition of 300 copies is available from both
Ecwpress.com
and
Rushbackstage.com
, for $74.95.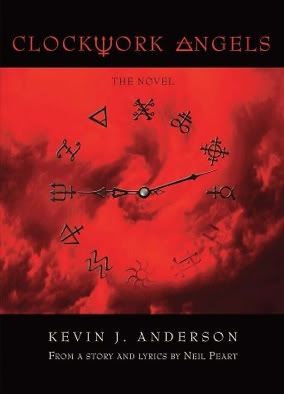 The Gold Edition is a must have for die-hard fans. Slipcased and signed by both authors, The Gold Edition is accompanied by a lithograph image from the book, signed by artist Hugh Syme, and a unique autographed page of the original Clockwork Angels manuscript. Both pieces are presented in an attractive frame with an engraved and numbered plate. With only 302 copies available, the Gold Edition will retail for $299.95, and is available exclusively from Rushbackstage.com.
The Gold and Silver editions of Clockwork Angels will be available for preorder on Friday, July 27, at 10am ET, while quantities last. Special editions will ship on August 31st.
Anderson commented recently about the novelization of Clockwork Angels album: "Imagine if someone had written the novel of The Wall, Tommy, or Sgt. Pepper's Lonely Hearts Club Band when those classic albums were released. For Rush fans, Clockwork Angels is that project. I worked together with Neil to flesh out the epic story told over the course of the music, as well as the artist Hugh Syme whose paintings fill the CD booklet. In a young man's quest to follow his dreams, he is caught between the grandiose forces of order and chaos. He travels across a lavish and colorful world of steampunk and alchemy, with lost cities, pirates, anarchists, exotic carnivals, and a rigid Watchmaker who imposes precision on every aspect of daily life."