Costa Rica-based melodic metal band SIGHT OF EMPTINESS will embark on a European tour in August with support from BENEATH, OPHIDIAN I, ATRUM, ANGIST, GRUESOME GLORY, REIGN OF FURY, REFLECTION IN EXILE, DAMAGE MY GOD, SPEED DEMON, THE NAIL, and CHICKEN PIE.
Sight Of Emptiness will also be playing Bloodstock Open Air once again, their first time was in 2007.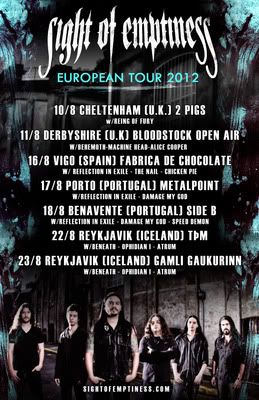 The dates are as follows:
August
10 - Cheltenham, UK - 2 Pigs.
11 - Derbyshire, UK - Bloodstock Open Air.
16 - Vigo, Spain - Fabrica de Chocolate.
17 - Porto, Portugal - Metalpoint.
18 - Benavente, Portugal - Side B.
22 - Reykjavik, Iceland - TÞM.
23 - Reykjavik, Iceland - Gaukur á Stöng.
Commented singer Eduardo Chacón: "Bloodstock 2012, are you ready? Sight of Emptiness is COMING HOME! Many amazing things have happened to our band since we won the 2007 Unsigned Competition and played the Main Stage. We have released one more album and have another one ready for 2012, won two ACAM Grammys (in Costa Rica), played shows in front of 15 000 people, shared stage with MEGADETH and much more. BUT having another opportunity to play Bloodstock has been huge on our want-to-do list. Looking forward to see all our UK friends and together destroy the Sophie Lancaster Stage. Get ready Europe... We're coming for you!"
Commented guitarist Rafael Castro: "This is the fruit of many years of hard work and we won't let go not even the slightest chance. We're ready."
Sight Of Emptiness recently finished recording their third and its as-yet-untitled new album, to be released later this year. The CD was recorded at SoloHits Studios in San José, Costa Rica by Swedish Producer Thomas "Plec" Johansson, who traveled all the way to Costa Rica to work with the band closely for about 22 days. The mixing and mastering duties are being handled by Thomas Johansson at Panic Room Studios in Skara, Sweden.
Check out five studio video reports below:
The album will feature guest appearances by the following top musicians: Glen Drover (KING DIAMOND, Megadeth), Christian Älvestam (SCAR SYMMETRY, MISERATION, SOLUTION .45), Whitfield Crane (UGLY KID JOE, ANOTHER ANIMAL), Ralph Santolla (DEICIDE, ICED EARTH, OBITUARY), Ole Halvard Sveen (EXTOL, MANTRIC, LENGSEL) and last but not least, one that comes as a shocking but pleasant surprise, no other than the Minister of Culture of Costa Rica; Manuel Obregón who plays the Marimba and the acoustic piano.
Commented Producer Thomas "Plec" Johansson: Coming to Costa Rica to work with Sight of Emptiness has been a great experience. Such dedication and love for music as these guys show is a rare commodity to come across these days and that's probably why we got along so well and managed to dish out some kick ass tracks. The new album will be something to look forward to, creating a blend of dark, heavy, energetic and melodic atmospheres that are ready to take the stage."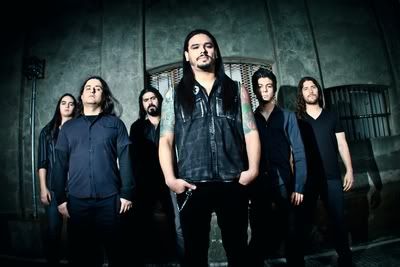 Sight Of Emptiness is (from left to right): Andrés Castro (guitar), Rod Chaverri (drums), Esteban Monestel (bass and backing vocals), Eduardo Chacón (singer), Gabriel Arias (electronics and backing vocals), Rafael Castro (guitar).