Multi-cam footage featuring the best effects from METALLICA's July 28th show at Palacio de los Deportes (Sports Palace) in Mexico City can be seen below:
Metallica posted a photo gallery from their July 28th show in Mexico City, Mexico at Palacio de los Deportes. Click
here
to check it out.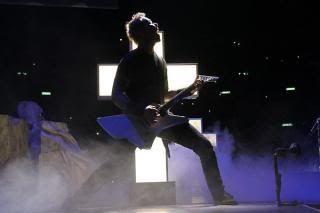 As previously reported, Metallica held a press conference prior to their Mexico City show:
Metallica recently posted more live footage from their first official festival, Orion Music + More festival, which featured multiple live music stages plus a lifestyle element that reflects each of Metallica's band members many personal interests. The thrash legends headlined both nights of Orion Music + More and played Ride The Lightning on Saturday, June 23rd and The Black Album on Sunday, June 24th. This will be the only time the band will perform these albums in North America in 2012.
New footage of 'The Unforgiven' from the Sunday night show can be seen below:
Check out the previously posted 'Master Of Puppets' footage from the Saturday show below: