In a recent interview, vocalist SARAH JEZEBEL DEVA commented on her departure from CRADLE OF FILTH in 2008 and her recently mended relationship with frontman Dani Filth. Having buried the hatchet, they's since collaborated on Cradle's new orchestral album, Midnight In The Labyrinth, and on Sarah's new song 'This Is My Curse':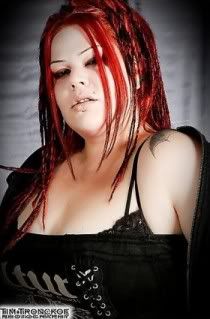 "I won't make it a secret that me and Dani didn't speak for three years, until he contacted me in January of this year asking me to do Midnight In The Labyrinth," Sarah reveals. "I left Cradle because it was the right time. Me and Dani were having all kinds of altercations, and I've always viewed Dani as my brother, so it was hard. I love him but I hate him (laughs). We're very much on the same page in some aspects, but it was time to go. I always thought that Dani and I would never communicate again, and I was quite happy with that even though there was a sense of missing him. I'd also met someone, and I wanted to do my own thing, so I left the band and went to Australia in November 2008. I never got a 'Thank you for all that you've done for this band…' or anything. I was in contact with Dave (Pybus/bass) but that was the only real contact I had to that part of my life. So, getting that call from Dani, I was really chuffed. I was skeptical at first, but I thought to myself, 'You know, now it's time to grow up.'"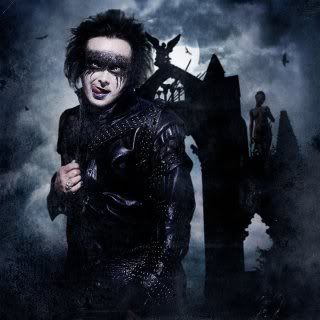 Click
here
for the complete story. Go to
this location
for BW&BK's recent interview with Sarah about the Malediction EP.
Sarah recently announced that she and her band are main support for TRISTANIA for the following dates. "We can't effing wait!"
September
14 - Bibelot - Dordrecht, Netherlands
15 - Onair Studio - Mons, Belgium
16 - Boerderij - Zoetermeer, Netherlands
17 - The Underworld - London, UK
18 - Glaz Art - Paris, France
20 - Tunk - Irun, Spain
21 - Carasol - Madrid, Spain
22 - Mephisto - Barcelona, Spain
23 - Poste a Galane - Marseille, France
25 - Bastard Club - Osnabruck, Germany
26 - K17 - Berlin, Germany
27 - Z7 - Pratteln, Switzerland
28 - Nachtleben - Frankfurt, Germany
29 - Turock - Essen, Germany