Backstage Axxess.com recently conducted an interview with CINDERELLA's Jeff LaBar. In the interview LaBar talks about the band's 2012 summer tour and more. Excerpts from the interview are below: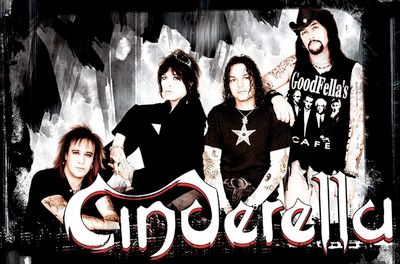 Backstage Axxess.com: Cinderella has just kicked off their summer tour. How is that going for you and what can the fans expect to see?
Jeff LaBar: "It's going great so far. The fans can expect us to be pretty much exactly the same as we always have been. I mean, not to like I guess toot my own horn but we all still have long hair, we're all still relatively thin and we're aging gracefully and we're still putting on a kickass rock show."
Backstage Axxess.com: Getting back to touring. I know one of the first tours Cinderella ever did was with LOUDNESS. What was that tour like and how would it compare to the tours now?
Jeff LaBar: "Well, that was our very first tour away from home. After we made the first record, but before the first record came out, we were still playing the same clubs that we were playing before we made the record. So this first tour we got was Loudness and I'm a big fan. My mother's Japanese, why wouldn't I be? I was listening to a lot of that type of music then, the early eighties shredder bands. Yeah, I love Loudness and that was very cool. It was us and POISON actually, us and Poison's first tour, both of us opening for Loudness. It was awesome. It was a small theater, auditorium type of tour, started in Santa Monica. That was my first time in California and it was just a thrill to be on tour. It was kind of the size of the tour we're playing right now. But I got to know them a little bit, they were very cool. They were very funny, funny little Japanese guys. That was the year that DAVID LEE ROTH put out Eat 'Em and Smile, his first solo record away from VAN HALEN. So it was a big deal. He was putting together his first tour, Steve Vai, Billy Sheehan, and Gregg Bissonette. They were looking for an opening band, us and Poison were up for the slot. That was the best part of the tour. That was getting to know Poison. Now we have a twenty-five year relationship and we've toured together five or six times, something like that. But we were both up for the opening spot for David Lee Roth and we got it. So we did five months with David Lee Roth and he was selling out two nights in some cities in arenas. Then we got on the Slippery When Wet tour with BON JOVI. So we were on like the two biggest rock tours that year, '86, '87. Bon Jovi and us were on the same label and that was good for Mercury/Polygram. We were selling out like up to five arena shows. So that was a very good year."
Backstage Axxess.com: Well, there certainly are a lot of options out there to get your music out. Do you think it's easier for bands now that they can have that immediate exposure?
Jeff LaBar: "I think it's easier if you know how to do it. It's easier if you're young and you grew up with this technology. Me, not so much. I grew up when we recorded on tape and you were on a label that gave you a bunch of money and said here, make songs and we'll do the rest. It's not like that anymore. Everything is online. Yeah, I have to have younger people tell me how to do it. It's like dad telling his son, here tell me how to get on Facebook. I do that with my wife. I give her my iPhone and tell her: here, make a phone call for me."
To read the entire interview click
here
.
Cinderella is currently on the last month of their North American tour. Dates can be found below:
August
2 - Canyon Club - Agoura Hills, CA
3 - Orange County Fair - Costa Mesa, CA
4 - Wild Horse Pass Casino - Chandler, AZ
5 - Pepsi Amphitheater - Flagstaff, AR
11 - Rockin' The Rivers - Three Forks, MT
13 - Oneida Casino - Green Bay, WI
16 - Kentucky State Fair - Louisville, KY
17 - Buster's - Lexington, KY
18 - DTE Amphitheater - Detroit, MI
19 - State Fair - Springfield, IL