EX DEO, the ancient Roman-themed arsenal led by KATAKLYSM frontman Maurizio Iacono, have released their new video, for the track 'I, Caligvla', featured on the upcoming Caligvla album. The clip can be seen below:
Iacono has checked in with the following update:
"Thanks for the great comments on the video so far, it has a very strong first day presence , you guys rule! We aimed at a vintage looking video with authentic underlying of actual events versus a more CGI like environment that we did int he past , we did our best to capture the essence of the times, which we did . To answer a few questions that I have received about the video and touring, here are the answers...
Q: Why does the emperor looks so young?
A: Because Emperor Caligvla was in his 20s when he ruled, was young and ruthless. People should read up on him and see that we came extremely close to his looks. A complete reproduction is impossible, unless you wanna give us $150,000 to do it in Los Angeles ;)
Q: Is that the guy from Heavy Metal Food Fighting ?
A: Yes it is. It's Gilles Lartigot who plays Ambiorix, a Gladiator from Gaul. This guy should be in Hollywood.
Q: Will you make a movie?
A: No.
Q: Will you tour for this album?
A: Yes, and we will kick you ass too :)
Next step is to release more music for Caligvla. This is a very diverse album from start to finish, it's a killer ride and we hope you enjoy it as much as we do. See you soon. Right now I'm busy with Kataklysm."
Ex Deo will release Caligvla on the following dates:
August
29 - Spain, Finland, Sweden, Greece
31 - Germany/Austria/Switzerland, Benelux
September
3 - Rest of Europe
11 - US/Canada
The new album artwork can be seen below: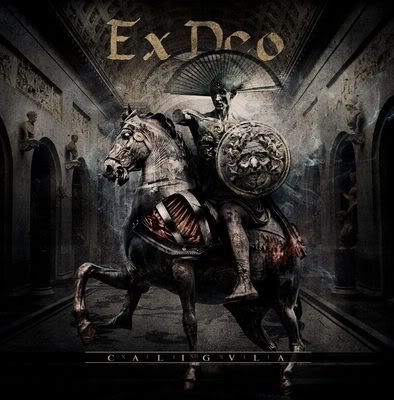 The booklet for the new album will feature commentaries and descriptions from frontman Maurizio Iacono with his views on each song. The limited first pressing will be released as a six-panel digipack featuring the bonus track 'Burned To Serve As Nocturnal Light', a song dealing with Caligvla's madman rival emperor Nero. In addition, catch Iacono's girlfriend and Colombian model Suzzy in the upcoming video 'I , Caligvla'.
An album trailer can be seen below:
In addition to the previously announced guest appearances from ALL SHALL PERISH guitarist Francesco Artusato, and Mariangela Demurtas from TRISTANIA, the band have now confirmed guest spots from SEPTICFLESH' Seth Siro and GRAVEWORM's Stefano Fiori. Every invited guest on the album will be of Roman or Greek descent.
Caligvla will include the following tracklisting:
'I, Caligvla'
'The Tiberius Cliff (Exile To Capri)'
'Per Oculos Aquila'
'Pollice Verso (Damnatio ad Bestia)'
'Divide et Impera'
'Burned To Serve As Nocturnal Light'
'Teutuborg (Ambush of Varus)'
'Along The Appian Way'
'Once Were Romans'
'Evocatio : The Temple Of Castor & Pollux'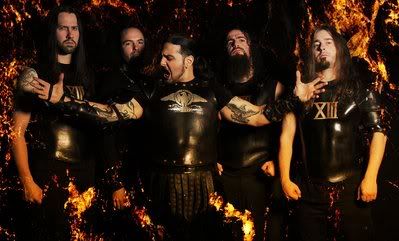 Ex Deo debuted the title track from their upcoming album on April 1st in Montreal, QC at Paganfest America Part III. Check it out below: