MELDRUM, the multinational hard rock/metal band formed by late ex-PHANTOM BLUE guitarist Michelle Meldrum, are set to release their long awaited third album, Lifer, this fall via Reversed Records.
Lifer was produced by producer/engineer Rob Shallcross (STRAPPING YOUNG LAD, GWAR, ZIMMERS HOLE, WEST OF HELL) and Gene Hoglan (TESTAMENT, DEATH, DARK ANGEL, DETHKLOK).
The first single from the album, 'A Toast To Romance', will be available via iTunes on Tuesday, July 31st.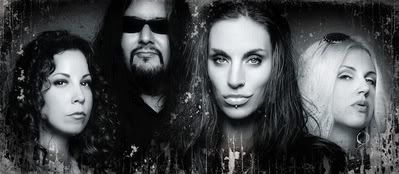 Michelle Meldrum passed away at the age of 39 in May 2008. Lifer stands as a proud tribute to Michelle Meldrum and her lifetime commitment to creating and performing music. Michelle Meldrum wrote the material for the album with drummer Gene Hoglan, along with new members bassist/guitarist Laura Christine (WARFACE) and vocalist Michele Madden (TOURETTES). Partial proceeds from the album will go to Michelle Meldrum's son Jake Thomas, who she left behind when she passed.
Audio clips from Lifer can be heard below:
More on Meldrum at
this location
.