By Matthew O'Shaughnessy
The headbanging US state of New Jersey has spawned countless critically-acclaimed bands in the last 30 years and is home also to the legendary Old Bridge Metal Militia. One such group that has always stayed true to their Garden State roots is WHIPLASH who formed in Clifton, New Jersey in 1984 by guitarist and ringleader Tony Portaro. Portaro, though hailing from the East Coast, has always gone on record that Whiplash were influenced by West Coast thrash. I recently sat down with Tony Portaro who gave new insight into the band's next album, Old School American Way, being a formidable power trio, and more in a wide-ranging interview.  
WVOX.com: Whiplash always seemed to re-define heavy metal, especially thrash, with their innovative and skull-pounding sound since 1984. You released two very pivotal and career ground-breaking albums in the first two CDs, Power And Pain and Ticket To Mayhem. What are your thoughts on how important those releases were and are today in Whiplash's career?  
Tony Portaro: "The good thing about those albums was that they were groundbreaking. It was just when thrash was coming out.  It took us years to realize how popular those albums were! We just were doing what we were doing making thrash metal music and playing as fast as we could and just doing our style. And I think alot of it stemmed from the San Francisco Bay Area music, but then because I went to the Berklee College of Music that put a little twist on it knowing all the theory and then we added our little East Coast style to it. But we never really knew how popular that first album was till ten years later."  
WVOX.com: Your first show as Whiplash was at Ruthies Inn in 1985. Who were some of your early influences and who really got you motivated to first pick up a guitar?  
Tony Portaro: "Well, Ritchie Blackmore was my idol. And I used to copy all his guitar leads. I copied his stuff more than anyone else as I was growing up. Then I wrote my own music when I got out of Berklee College of Music in 1979."  
WVOX.com: Many people who went to Berklee later went on to become mega stars and household names in hard rock and metal. How important was Berklee to your career?  
Tony Portaro: "I always tell everyone that I learned more at Berklee in the first two weeks than I did at any private lessons. It was just great.  I really truly believe everyone should know 'theory' . When you write songs it'll make every individual song sound different.  I should also mention, when I was at Berklee it was the same time STEVE VAI was going there and he was in a band called MORNING THUNDER with David Rosenthal. And I got to watch one of their rehearsals and it was just amazing watching Steve Vai that up close."  
WVOX.com: Being from the East Coast, you were more influenced by West Coast thrash.  Who were some of the bands that influenced you and Whiplash from that area?  
Tony Portaro: "Definitley EXODUS, METALLICA, POSSESSED, MEGADETH. We played our first show with Possessed at Ruthies and they let us use their whole backline at the show. We had released Power and Pain before we even did one show so it was nice to have that album out and have that foundation to work off of."   
 WVOX.com: In the mid 1980's, Whiplash embarked on a extensive European tour with SODOM. How important was this road trek with Sodom in the band's career?  
 Tony Portaro: "I really don't think we would be where we are today if it hadn't been for that tour with Sodom. I think Tom (Angelripper) had a lot to do with that. He heard our new stuff and liked it. It fit in well with what Sodom was doing. They were also a three piece group and it just worked out perfectly and we shared the tour bus and did twenty eight shows in thirty days and  became like family with those guys."  
 WVOX.com: Whiplash would later release their second acclaimed album, Ticket To Mayhem. How would you say that album is alike or different than Power and Pain?  
Tony Portaro: "Well, the biggest difference is that Tony Scaglione was not in the band after Power And Pain and we had Joe Cangelosi in the band. But I think those are the two albums that sound the most alike as I went through many changes in band members throughout the years. Now, I feel really strong about the new lineup which also features Dank Delong of New York on bass and Dan Foord from London, England on drums. He taught at the Academy of Contemporary Music in the UK."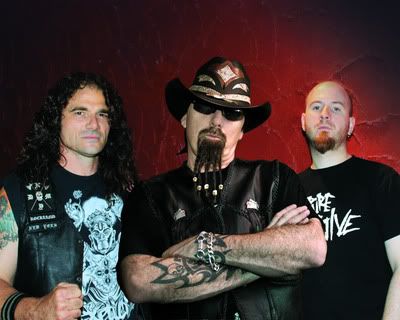 WVOX.com: For a power trio, Whiplash gets a bombastically clean and ultra heavy sound.  What's your secret to that great sound?  
Tony Portaro: "It's alot of noise for three poeple!  In the early days I was doing some guitar parts where even my picking I'm like, playing the root and playing the melody and keeping the rhythm going at the same time. At times I do play two guitar parts at once and occasionally three. A lot of things contribute to making that fat sound. You look at a song like Burning Of Atlanta - I wish one of my fans would count how many attacks I have on the strings on that song! We squeeze alot of notes in three and a half minutes!"  
WVOX.com: You're currently working on new material for your next release, Old School American Way. Is the title any indication that this album will be a return to Whiplash's early discs and sound?   
Tony Portaro: "I would say so. That's one of the main reasons we choose that title. We're going with Old School American Way for the title."   
WVOX.com: So, the forthcoming album will be in the vein of the first two records. What else can you tell us about Old School American Way?  
Tony Portaro: "There are ten tracks. Songs like 'Who Stole My Whiskey', 'Prophet Of Lies', 'Sonic Asylum', 'Red Tape Riot' and 'Mommy's Kill Club' and more."   
WVOX.com: I also understand that Whiplash will be re-recording some tracks from Power and Pain and Ticket To Mayhem?  
Tony Portaro: "It's probably going to happen. That's a plan and we've been talking about it.  It will be a separate thing from our new album."  
WVOX.com: What are the most complex and biggest changes you as a musician have witnessed since the legendary 1980's?  
Tony Portaro: "All the downloading and bootlegging of music kind of hurts a bit. But you gotta look at it from both angles.  You're songs are now getting all over the world. You're getting fans from the internet of all ages and we were doing since 1984. Now you have father's bringing their kids to the shows!  It's a great time for thrash metal now. It's popularity has risen."  
WVOX.com: You've played countries like South America, a real hot bed for metal. What is it about this area that makes for some of the most rabid fans?  
Tony Portaro: "I think they just want to be radical and rebels and this music takes them to this level.  South America - and Europe - are definitely Whiplash strong markets and we'll keep going back there as much as we can. The show we did in Chile was just incredible! We played with VIOLATOR. Backstage, the singer of Violator was telling me that Whiplash is his biggest influence of all time."   
WVOX.com: How do positive comments like that make make you feel?  That your hard work has paid off?  
Tony Portaro: "Yeah, it does.  It makes you appreciate all the time and your whole life you've spent doing this.  When we're playing and I look down from the stage and see everybody smiling and thrashing and moshing; it makes me feel good in my heart that they forget all their troubles. Any kind of bad relationship's, bills they have to pay. They're in the palm of my hand and just loving life for that time."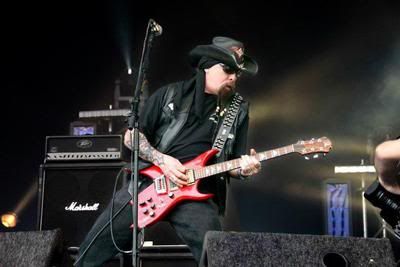 WVOX.com:  In 2011 and 2012, Whiplash was very busy on the road. You played Greece, The Hellfest 2011 in France, San Francisco on The Slaughter By the Water 2 and in Chile as mentioned before.  Fans also got to witness Whiplash in Germany at The Keep It True Festival with ANVIL and OSTROGOTH.  What was that show like?  
Tony Portaro: "We just got off the plane and we couldn't even go right to the hotel!  We went right to the venue pressed for time in a van. We got there and the stage manager said, 'You're on in 15 minutes!'  It was insane. After the show, we came back to the hotel and there was Anvil hanging out on the tables outside on this little cafe area and there was an empty seat near Lips and we're having a few beers having a great time.  Really nice guy."  
WVOX.com: Whiplash has played a lot of great venues around the globe. Is there any destination you've never played but always desired to?  
Tony Portaro: "Brazil, Peru, Argentina in South America for starters.  Also, Costa Rica and Asia."  
WVOX.com: Tony, what are your final thoughts on the forthcoming album, Old School American Way, and what's on the horizon for the band?  
Tony Portaro: "I'm completely focused on this new album now and I really want to get it down as soon as possible. And get it done as fast as possible. And I am looking forward to our next show in Columbia soon.  I would also like to say, stick with us. Your father was probably a Whiplash fan. And your Mother. We're looking forward to 2013; it 's going to be the best year for Whiplash!"