MR. BIG guitarist Paul Gilbert will be hosting a full master class guitar clinic tour in six states around Australia.
Gilbert will be playing live with a band, demonstrating typical lessons he provides for students from beginner to advanced, answering questions from attendees on the night, covering sound, technique, theory and industry questions.
The Clinic will run for over two hours and give attendees the opportunity to play alongside Paul at the clinic.
Tickets are $80 per person. However Thump Music has announced early bird price of $69 per person. The early bird period will last for only a limited time.
A Thump Music Show Bag will be supplied to all pre-paying customers. Those paying on the day of the show are not guaranteed a bag. The gift bag comes with over $50 worth of gear.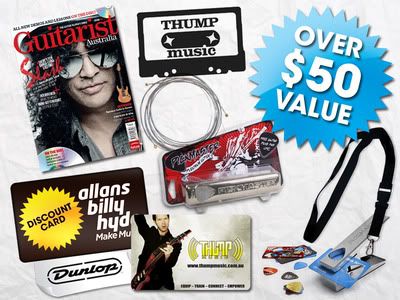 Due to Gilbert's hearing condition he has requested that all questions be emailed to Thump Music who will print out the question. He will address that question in the state the question is from. All questions should be sent to
questions@thumpmusic.com.au
. Name, ticket number and State you'll be attending the show at, should be in the subject line. There will be a cut off period prior to the tour so that Gilbert can go through the questions prior to each show.
The show schedule is as follows:
October
8 – Brisbane, Australia (7:30PM till late)
10 – Sydney, Australia (7:30PM till late)
11 – Melbourne, Australia (7:30PM till late)
13 – Hobart, Australia (10PM till 12:45AM)
15 - Adelaide (7:30PM till late)
17 – Perth, Australia (7:30PM till late)
For more info and to book tickets visit
this location
.