Drummer Mike Portnoy (ADRENALINE MOB, FLYING COLORS, ex-DREAM THEATER) recently spoke with Prog Rock Mag. Part 1 was posted on July 17th, Part 2 is now available. Both are available below:
During an interview that aired on the Friday, July 13th edition of
Eddie Trunk's Friday Night Rocks
radio show on New York's Q104.3 FM, Portnoy commented on his aborted project with guitarist John Sykes (BLUE MURDER, ex-THIN LIZZY), which led to his working with bassist Billy Sheehan (MR. BIG, TALAS) and guitarist Richie Kotzen (ex-Mr. Big):
Portnoy: "I love John personally, and we get along great — he's a sweetheart of a guy — but I need to keep moving. I can't sit still and kind of wait to make an album over the next three years. I need to put things on the calendar and move forward and get them done, and John's kind of just a 'wait, wait, wait' guy. Sadly, it kind of just stopped in its tracks, and Billy and I said, 'Look, let's do something.' And you (Eddie) were the one, actually, that suggested Richie Kotzen and I thought it was a brilliant suggestion, because he's an unbelievably underrated talent, not only as a guitar player but a phemonal singer, and just an amazing songwriter and artist. I think people just kind of lump him, or write him off as the guy that was with Poison and Mr. Big. I think they have no idea what he's really capable of."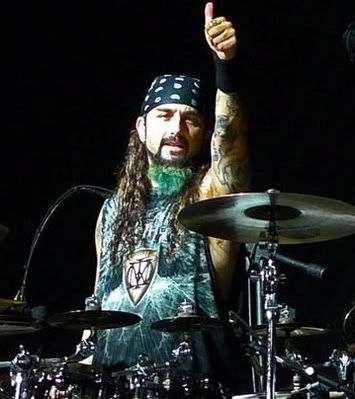 "Me and Billy have already done two writing sessions with Richie, with the three of us, and we have about eight songs done and written and we've got another handful that are ready to go, so we're gonna start the album next month."
"It's a classic-rock kind of power-trio sound. If you picture the classic-rock bands of… the classic ones - LED ZEPPELIN, CREAM, JIMI HENDRIX, GRAND FUNK RAILROAD - if you take that classic-rock power-trio sound of the early '70s, and then you sprinkle it on top with some of the modern kind of sounds of SOUNDGARDEN and ALICE IN CHAINS or BLACK CROWES or LENNY KRAVITZ. It's in that vein; it's kind of a mixture of all of those bands. But on top of it all you've got the phenomenal playing that Richie and Billy do, and I could play a couple of things on the drums as well. And all three of us are singing; Richie is the lead vocalist, obviously, but me and Billy are also singing."
Artisan News Service conducted an interview with Portnoy earlier this year at the Rock And Roll Roast of BLACK LABEL SOCIETY frontman Zakk Wylde. In the interview Portnoy talks about life after Dream Theater and if he still keeps in touch with the guys. Watch the interview below: