MANOWAR have announced a German date on The Lord Of Steel World Tour to Germany in 2012.
"There were so many fans who couldn't come to Dortmund, so we have adjusted our travel schedule to add a date to this first leg of our world tour so they will not have to wait until next year." said Joey DeMaio. "We found a great gig in the heart of Germany that will allow fans from all over the country to face The Lord Of Steel."
The show will take place on Saturday, October 20 in Jahrhunderthalle in Frankfurt and tickets go on sale on Friday, July 20.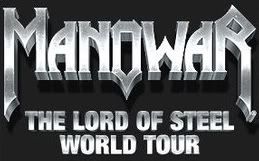 The Lord Of Steel World Tour dates:
Oct ober
9 - Zaragoza, Spain - Interpeñas
11 - La Coruña, Spain - Coliseum
13 - Barcelona, Spain - St Jordi Club
14 - Madrid, Spain - La Riviera
16 - Paris, France - Trabendo
19 - Kerkrade, Holland - Rodahal
20 - Frankfurt, Germany - Jahrhunderthalle
23 - Prague, Czech Republic - Mala Sportovni Hala
24 - Pardubice, Czech Republic - CEZ Arena
26 - Zlin, Czech Republic - Euronics
November
23 - Worcester, MA - The Palladium
25 - Long Island, NY - The Paramount
Manowar's new studio album, The Lord Of Steel, was first released worldwide on June 16th, exclusively on iTunes and on the band's own online store,
The Kingdom Of Steel
.
On the same date, Metal Hammer UK released a special edition of Metal Hammer #233, including the CD and a digital copy of the album with exclusive artwork. Check out the exclusive artwork below:
The Lord Of Steel CD will be released in retail stores from September 7th (dates may vary from territory to territory). The CD is available for worldwide shipping from The Kingdom Of Steel.
The Lord Of Steel is blazing with pure power, untamed energy, and a sound as raw and wild as a force of nature. Track titles like 'Annihilation' and 'Hail, Kill And Die!' set the tone for a record that is packed with surprises. In contrast to the 2007 release Gods Of War, this new album is not a concept album, yet each song tells a different story, retaining the Manowar vision of righteousness, honor and everything Manowar fans have come to know and love.
Manowar fans should expect to have "their heads completely blown off" said Manowar bassist Joey DeMaio in a recent interview, and explained that "…this album is all about brutality and raw power!"
The album was mixed and mastered at the legendary Wisseloord Studios by long-time collaborators mixing engineer Ronald Prent and two-time Grammy award-winning mastering engineer Darcy Proper.
A sneak preview into the song 'Expendable' can be found below: