THE SIN CITY SINNERS are not only Las Vegas best Rock Band they are also the busiest. Nevada residents and visitors alike will now be able to share The Sinners experience four nights a week and if that's not enough on August 26th The Sinners will be the house band at The Hard Rock Hotel for The Vegas Rocks Magazine Awards and After Party feat appearances by Sammy Hagar (CHICKENFOOT, ex-VAN HALEN, MONTROSE), David Coverdale (WHITESNAKE), Geoff Tate (ex-QUEENSRŸCHE), MICHAEL SCHENKER and more.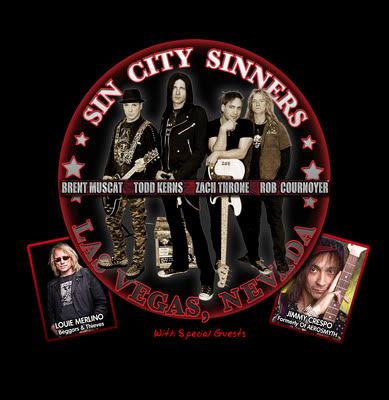 On Thursday nights, the Sin City Sinners take over the Hard Rock Cafe, which is the only all ages show. The place to Sin on Saturday Night is The Railhead (inside Boulder Station). This is the "amps to 11? full on rock show featuring two sets of covers, originals and special celebrity guests.
Every Sunday and Monday (starting July 29) is your chance to see The Sinners like you've never seen them before, inside a beautiful lounge at a Five Star Resort.
At Sin City Sinners request none of their residency shows charge a cover.
Sin City Sinners are composed of core members Todd Kerns (SLASH, AGE OF ELECTRIC), Brent Muscat (FASTER PUSSYCAT), Rob Cournoyer (RAGING SLAB) and Zach Throne (THE HEIGHTS). For shows Todd is on tour with Slash, Jimmy Crespo (ex-AEROSMITH) and Louie Merlino (BEGGARS & THIEVES) will sit in with the band.
For more information and a full list of dates please visit
Thesincitysinners.com