By Aaron Small
Beginning July 20th in Bristow, VA, two of rock 'n roll's most iconic bands – KISS and MÖTLEY CRÜE – will team up for a three month co-headlining tour of North America. Aimed at increasing the already heightened anticipation for this once in a lifetime bill, both groups have released new singles; KISS issued 'Hell Or Hallelujah', and the Crüe came out with 'Sex'. Now both songs are put under the BraveWords.com microscope.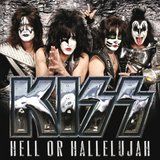 First up is KISS with 'Hell Or Hallelujah' – The title sounds as though it could be the name of a Sunday morning sermon. Gene Simmons has always been The Demon, and given the fact that Paul Stanley sports a plethora of feathers (albeit black ones) in his current on-stage outfit, perhaps he should switch his character from The Starchild to The Angel. But that's where the religious connotations end. It's no secret Gene loves cold hard cash, and his adoration of the almighty dollar comes through loud and clear in the lyrics: "I paid the price to have my way, 'cause money makes the rules… pay now!" Peppered with Stanley's patented "yeaaahs" and "let me hear ya," the song sounds more like a live track than a studio recording. Despite the lyrical shortcomings, 'Hell Or Hallelujah' hits for the fences musically. Just over four minutes in length, the song begins with a killer '70s guitar riff and immediately locks into a solid groove. Tommy Thayer's tasteful guitar solo fits perfectly, sounding just like something the original Spaceman Ace Frehley would have played. Bordering on over-produced, but managing to still exude care-free enjoyment, 'Hell Or Hallelujah' will placate the KISS Army, but won't gain any new recruits.
'Sex' – it's hard to believe it took Mötley Crüe 30 years to write a song with such an obvious title. From the romantic liaisons with Playboy Playmates, to X-rated home videos, to their love affair with strip clubs, the old in and out is an essential part of what makes Mötley tick. While 'Sex' doesn't make the Crüe's all-time top ten list, it's still pretty damn catchy! Got to take issue with Nikki Sixx's statement that, "It sounds very much like it's off of the first record (Too Fast For Love)." To these ears it sounds like a Saints Of Los Angeles B-side with a bit of the Generation Swine attitude thrown in for good measure. Much like a one night stand; 'Sex' is short and sweet, lasting slightly longer than three and a half minutes. Forget the foreplay; they "never really cared." Vince Neil knows "everybody wants some" and "what gets me off is a little neglect." Truthfully, Mick Mars' guitar solo is unmemorable; but then again, so are some of the groupies. Mimicking the Parental Advisory Explicit Lyrics warning sticker on the cover art is simply brilliant. 'Sex' is designed for hot and sweaty amphitheatres, full of slightly intoxicated and horny Crüe fans looking to hook up; which is exactly where it will be played night after night this summer.
The big difference between the two songs is that 'Hell Or Hallelujah' serves as a preview of the forthcoming KISS full-length, their 20th studio album, Monster, due in October. Conversely, 'Sex' is a stand-alone single for Mötley Crüe. Two entirely different business models; from two bands that have definitely stood the test of time. Is there a clear-cut winner? Certainly not a knock-out, but Mötley earns the judge's decision.