Salt Lake City duo EAGLE TWIN will issue their second full-length, The Feather Tipped the Serpent's Scale, via Southern Lord as a deluxe digipak and digital download in North America on August 28th, with a 2xLP version to follow several weeks later.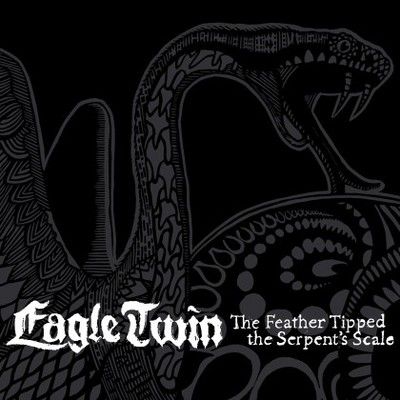 The Feather Tipped The Serpent's Scale, picks up right where Eagle Twin's 2009-released debut LP The Unkindness Of Crows left off.
In this installment the crows documented in the first album have battled the sun and were burned back down to earth as black snakes, the concept of the album continuing mainly on the snake and its various mythic and symbolic incarnations. Ultimately the great ancestral snake is transformed from its lowly beginnings back into a bird soaring upon the thermals. As with The Unkindness Of Crows, guitarist Gentry Densley (ex-ICEBURN) and drummer Tyler Smith (ex-FORM OF ROCKET) recorded The Feather Tipped The Serpent's Scale with Randall Dunn at London Bridge Studio, the finished product bellowing with over 50 minutes of the band's most mammoth material to date.
The Feather Tipped The Serpent's Scale tracklisting:
'Ballad Of Job Cain Part I'
'Ballad Of Job Cain Part II'
'Lorca (Adan)'
'Snake Hymn'
'HornSnakeHorns'
'It Came To Pass The Snakes Became Mighty Antlers'
'Epilogue, Crow's Theology'
Catch Eagle Twin live at the following shows:
August - West Coast Tour with GAZA
1 - The Wax House - Idaho Falls, ID
2 - The Boise Venue - Boise, ID
3 - El Corazon - Seattle, WA
4 - Backspace Cafe - Portland, OR
5 - Origami Recording Lounge - Chico, CA
6 - TBA - Reno, NV
7 - Thee Parkside - San Francisco, CA
8 - TBA - Fresno, CA
9 - TBA - Palm Springs, CA
10 - TBA - San Diego, CA
11 - Echo/Echoplex - Los Angeles, CA
12 - Chasers Nightclub - Scottsdale, AZ
September - New Zealand/Australia Tour with RUSSIAN CIRCLES
26 - Kings Arms Tavern - Newton, NZ
27 - San Francisco Bathhouse - Wellington, NZ
28 - Corner Hotel - Melbourne
29 - Fowler's Live - Adelaide
30 - The Bakery - Perth w/ Drowning Horse
October
4 - ANU Bar - Canberra
5 - The Zoo - Brisbane
6 - The Hi Fi - Sydney
View live footage of Eagle Twin in Brooklyn, NY performing 'Snake Hymn' from The Feather Tipped The Serpent's Scale below: