Become a fan of Napalm Records on Facebook and get rewarded with a free 16-track mp3 compilation. The exclusive sampler is only available on Facebook and features tracks of XANDRIA, CANDLEMASS, ALESTORM, MOONSPELL, HUNTRESS, STRIKER and many more.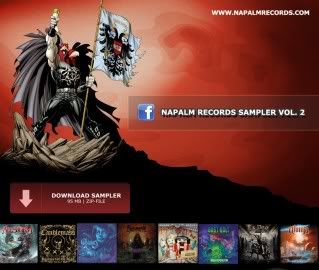 The complete tracklist is as follows:
HUNTRESS - 'Spell Eater'
MOONSPELL - 'Lickanthrope'
CANDLEMASS - 'Dancing In The Temple (Of The Mad Queen Bee)'
MOONSPELL - 'White Skies'
STRIKER - 'Let It Burn'
CHAOSWEAVER - 'Maelstrom Of Black Light'
MORTILLERY - 'Evil Remains'
KONTRUST - 'The Butterfly Defect'
DUST BOLT - 'Violent Abolition'
NACHTBLUT - 'Ich Trinke Blut'
ATOMA - 'Rainmen'
LONEWOLF - 'Army Of The Damned'
THE GRAVIATORS - 'Häxagram'
XANDRIA - 'Forevermore'
AHAB - 'The Giant' (edit)
ALESTORM - 'Death Throes Of The Terrorsquad'
Click
here
to grab your copy.