RECKON WITH ONE guitarist Mark Anthony Kopernicky (ex-THE EXALTED PILEDRIVER) has issued the following update:
"Well its that time again..to update you on the happenings in the RWO world. First off, I'm pleased to say that as of this evening we have completed the bass tracks for three songs for the new RWO album Tornadic. They turned out awesome, as Marko did a fine job I must say....very heavy...very melodic..compliments the guitar playing very nicely. In a few weeks I will finally be heading off to Vancouver to finish off the rest of the bass tracks and get a head start on some vocals. Very exciting! I can finally see the light at the end of the recording tunnel.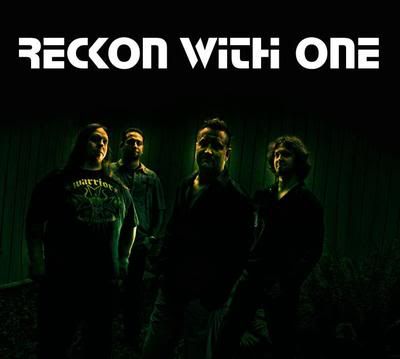 Also last month I remember mentioning that I was going to start recording some video discussing some of our previous releases, I havent forgotten about that..in fact I have started on this project, and you should see something up on our website (Reckonwith1.com) as well as our YouTube Channel in the very near future.
Speaking of past releases, I just realized that this year marks the 10th anniversary of the release of our second album The Purpose Of Existence....wow how time flies. I feel it important to mention this as I feel this album really made a mark on the scene for us and got tons of great reviews and press. So good in fact that we were approached at that time by Galy Records to properly release it. It was a awesome period for RWO, and I will go into more detail about the making of that album and everything else that happened around it on the upcoming videos I'm making. Oh and if you don't have a copy, you can always contact us and buy one."