Abyss Records' Summer Of Sickness campaign continues with the release of SOUTHWICKED's Death's Crown on July 6th.
Featuring death metal guitar legend Allen West (ex-OBITUARY, ex-SIX FEET UNDER, ex-MASSACRE, etc), SouthWicked delivers early 90's style crush 'n groove USDM on this stellar debut album. Heavy riffs, steamroller rhythms, and memorable songwriting make Death's Crown an album you must hear.
Death's Crown tracklisting:
'Intro (The Massacre Begins)'
'Death's Crown'
'Crawling For Blood'
'Killing Spree'
'The Phantom Prince'
'Graveyard Of Bones'
'Charming Karma'
'Green River Killing Fields'
'The Only Living Witness'
Check out a promo trailer below:
SouthWicked is:
Allen West - Lead Guitar
Marco Vreven - Drums
Sven Poets - Vocals
Rock Rollain - Bass Guitar
Stef Mikolajczyk - Touring Rhythm Guitarist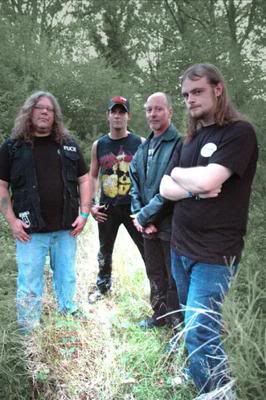 More on SouthWicked at
this location
.