By Greg Pratt
Sweden's GRAND MAGUS are a true-blue metal band, all blood sweat and tears, triumphant riffs, and grizzled attitudes to show for it. On their sixth full-length, The Hunt, the band once again combines old school trad metal, galloping stoner, and heavy doom, to create a sound that, on this album, flows better than ever before.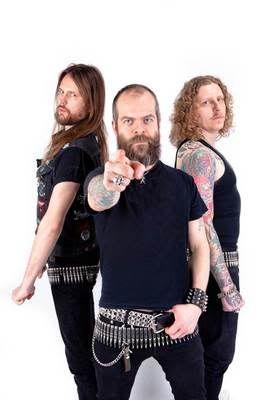 Guitarist/vocalist JB Christoffersson says that he's very happy about The Hunt because there's been such good response to it. But he adds that this time out, the responses are quite varied.  
"I'm also quite curious because there has been many different responses to it and I think that's a really good sign," he says. "If something is too streamlined and predictable it's usually quite forgettable. I think The Hunt has the potential to stick around for quite some time."  
Christoffersson says that The Hunt is the perfect follow-up disc to 2010's Hammer Of The North because it takes what the band learned from that album and adds what they thought was missing from it.  
"I think all our albums are connected in the sense that they've been reactions to the previous one, you know? Of course, they are connected lyrically and musically, but also emotionally," he says. "After Hammer Of The North we wanted to have a bit more variation and dynamics and a bit more 'open' songs. This would probably not have happened without Hammer Of The North, if you know what I mean."  
The chorus of 'Starlight Slaughter' is about as open as it gets, as in ready for the huge open-air fests o'er in Europe. The song—especially that amazing chorus—brings back great '80's metal moments and makes me assume that the band are big fans of '80's metal, both assumptions which turn out to be correct.  
"Yes, I agree," he says. "And yes, we are. To me that means JUDAS PRIEST, MANOWAR, SAXON, MOTÖRHEAD, VENOM. Leather, studs, denim and patches. The good stuff. No fucking emo hairstyles, no crying in interviews about how tough your life is and, most of all, fucking awesome music, with power and strength and heart."  
Really, one of the amazing things about the band is the tightrope-walking act they lay down. On one side, glorious classic metal elements; the other, total cheese. They never fall into the cheese. How do they do it?  
"Because we mean it," says Christoffersson. "We are not an ''80's tribute band' or a 'retro band'. The lyrics are honest and heartfelt. They are not tongue in cheek and the music is not made for Guitar Hero and we don't dress the way we do to be hip and get in fashion magazines or have some 'I'm in the know and I have a blog and I can dictate what is cool or not' amateur poser give us some kind of approval. We are the real fucking deal. And we have been since we started. All bands we've toured with know this. And all the people we've played to know this."  
But that doesn't mean that the band fits in. Really, in today's metal scene they stick out, like a sore thumb. Between doom and stoner, retro and hip, classic and modern… the band really are on their own out there in one way; in another way, they have the spirit of true metal bonding them with other bands flying the flag high.  
"We've always been an outsider band in the sense that we've never been part of any movement or trend," he says. "But we have many kindred spirits among other bands. All of them real, and all of them worth respect. They know who they are."